Splice has launched some new artist collection on its Splice Sounds label.
GEOTHEORY: Cozmic Care Package Kit — GEOTHEORY is an NYC-native electronic music producer whose soundscape-esque sound is influenced by an odd blend of urban street racing, spiritual mythology, and astronomy.
In early childhood, he began dabbling with basic free production and DJ software fueled by an obsession with Daft Punk and his father's extensive house music record collection—influences you'll hear in this pack. In addition to self-released singles and EPs, he's also been represented by Mag Records, Flow-Fi, and Fool's Gold.
These sounds can be used in any type of production but would feel especially at home in house, downtempo, garage, or nu-disco tracks. But we like to imagine them as the soundtrack of a fashion show in space.
Medasin Hypercolor Vol. 1 — Medasin releases yet another series on Splice, introducing: Hypercolor.
Volume 1 is a paradox—both spacey and grounding, leaving you feeling in touch with the natural world. Like all of Medasin's work, these sounds are genre-agnostic.
Regarding the Hypercolor collection, Medasin said, "This is my personal sample pack I've been using for almost a year now. There's a ton of amazing melody loops and midis in here from unfinished songs of mine. Go with these and send me what u make."
MUNA: World Saving Sample Pack — MUNA is an LA-based dark electro-pop band consisting of Katie Gavin, Josette Maskin, and Naomi McPherson.
Having met in college in 2013, their collaboration began on an experimental note and evolved toward hooky electronic pop. In the summer of 2014, they self-released their debut EP, More Perfect. Its success led to RCA Records signing them in the US and Columbia Records in the UK. RCA released their self-produced EP, Loudspeaker in May 2016. Their debut full-length album, About U, was released in 2017 and their sophomore album, Saves the World in 2019.
NPR described their music as, "what pop might sound like if it was made by punks, and what relatability could feel like to people who have always felt different. It soars and sinks, questions and answers. Like the band who makes it, the music itself seems to find solidarity in difference."
The magic of their productions lies in their collaborative process. They make sounds that are catchy while adding a dark, emotive quality that's uniquely theirs. Their unique ability to manipulate sounds into hooks, experiment on the go, and tap into their intuitive feelings when making decisions has captured the attention of many. And now you can use their custom sounds made just for this pack in your productions.
Holly – Ilex Sounds Vol. II — Holly is back with even more hard-hitting drums, lush textures, layers, and official sounds, plus a few surprises.
SAKIMA Vocal Pack Vol. 3 — SAKIMA is dishing up his third Splice sample pack.
This one comes brimming with all sorts of drum and bass loops and one-shots, synth loops in a variety of keys, tonals to keep things extra interesting, and of course, SAKIMA's signature vocals.
These dark, ambient-leaning sounds offer a moody foundation for a future bass, R&B, or dark pop song.
SAKIMA is a UK-based singer and producer who focuses on bringing LGBTQ+ narratives to pop music without filtering or censorship.
Jason Evigan – The Garden Sample Pack — Jason Evigan is a musician, singer, songwriter, and record producer.
He worked with Dua Lipa on her highly anticipated sophomore album, Future Nostalgia, where he produced and co-wrote her single "Physical" and co-wrote "Boys Will Be Boys." He also produced and co-wrote half of the latest RUFUS DU SOL album, along with several tracks on Hobo Johnson's album including singles "Typical Story" and "Uglykid" ft. Elohim.
Other songwriting credits include co-writing and production of Maroon 5's "Girls Like You" and "What Lovers Do," Madonna's "Ghosttown," Demi Lovato's "Heart Attack," Jason Derulo's three-time platinum "Talk Dirty," and David Guetta's "Lovers on the Sun."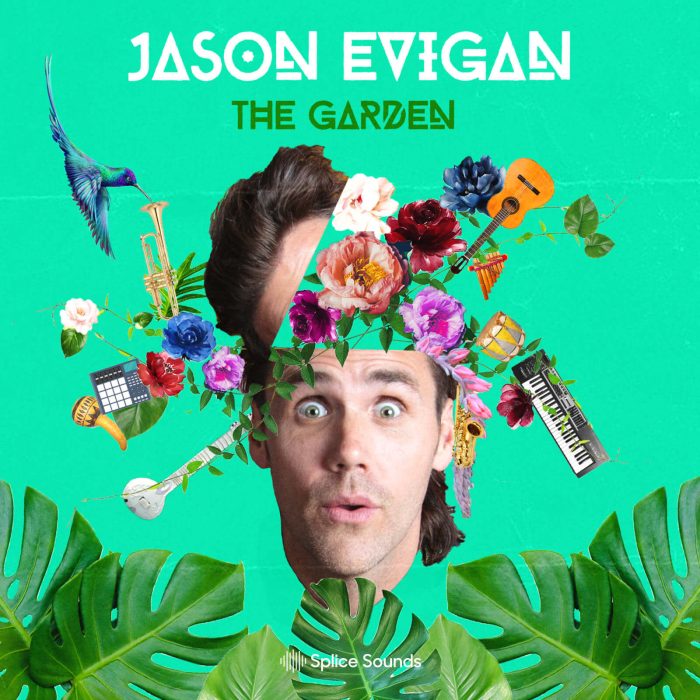 In addition to his chart success, Evigan's music has been in three blockbuster movies. Notably, Kehlani's platinum single "Gangsta" & Skylar Grey's "Wreak Havoc" for the Suicide Squad Soundtrack. Also, Nick Jonas' "Bom Didi Bom" ft. Nicki Minaj from 50 Shades Darker, as well as Kehlani's gold single "Good Life" and Lil Yachty's "Mamacita" from The Fate of the Furious Soundtrack.
Before his career as a writer-producer, Evigan was the lead singer of After Midnight Project. Though he came up in the alt-rock scene, his palette is expansive encompassing hip hop, R&B, pop, rock, metal, EDM, and singer-songwriter music. Recently, he and his wife formed a music duo called Elephant Heart, which pushes genre boundaries and expresses ideas of love and spirituality.
This pack is the most thoughtfully picked and arranged bouquet from the garden of Evigan's life. You'll find his signature sounds, custom chords and progressions to inspire new songs, synths recorded to tape machines, and more. This garden is truly varietal featuring pop, funk, and a wide variety of electronic music. There's no way to not have fun making these unique samples your own.
The new sample packs and individual sounds and now available to Splice Sounds subscribers. New users can get 1 month free access to Splice by using promo code YT2021 when signing up for a plan.
More information: Splice Sounds