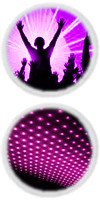 Splurgo Audio has announced the release of Minimal Beats and Maximal Synths, two new sample packs.
New Splurgo Audio sample packs
Synth Collection Vol. 03 – In today's dance scene there are many styles that can be defined as dance, trance or anything like. Jumpstyle, eurodance and hands up are just a few of them. We tried to represent quite some styles in this third installment of synth loops. These synths are harder and better than ever! The pack contains 56 loops at 140 bpm in the key of A.
Minimal House Beats – Also known as buftech and microhouse, minimal house found it roots in the early 90s developed from minimal techno and glitch house. Nowadays it's still a popular genre and has some loyal followers. We're doing our best to keep the followers happy, so here are new loops for your new minimal house project. The pack contains 72 loops at 130 bpm.
Synth Collection Vol. 03 is available in Sony Acid WAV and Apple Garageband AIFF for $7.95 USD, Minimal House Beats is $9.95 USD.
More information: Splurgo Audio (website no longer available)