Plugin Boutique has announced a Spring Sale on Vengeance Sound, offering a 20% discount on the popular VPS Avenger synthesizer instrument and other Vengeance Sound plugins.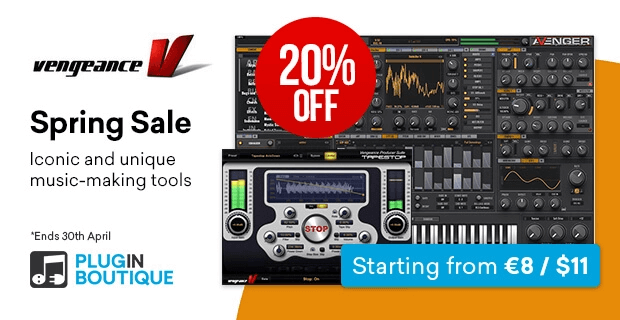 Meet our new alpha and omega of synthesis: Vengeance Producer Suite Avenger is here! The most versatile and best sounding synth you will ever encounter. There is nothing VPS Avenger can't do, it offers you tons of features and a gigantic growing library from some of the best sound designers on this planet.
The upcoming version 1.5 update of Avenger will include a new multi-loops oscillator model. Check out the video demonstration below.
Other plugins on sale include the Tape Stop, Glitch Bitch, Philta XL, Multiband Sidechain3 and Multiband Compressor.
The offer expires May 1st, 2020.
More information: Vengeance Sound