Square Saw Sound has announced the release of VC-SSS-3 and SSS-Polysynth, two Kontakt instrument libraries that bring the sounds of two legendary, vintage analog synthesizers by Electronic Music Studios London: The EMS VCS3 (1969) monophonic synthesizer and the incredibly rare (less than 30 were produced) EMS Polysynthi (1978) polyphonic synthesizer.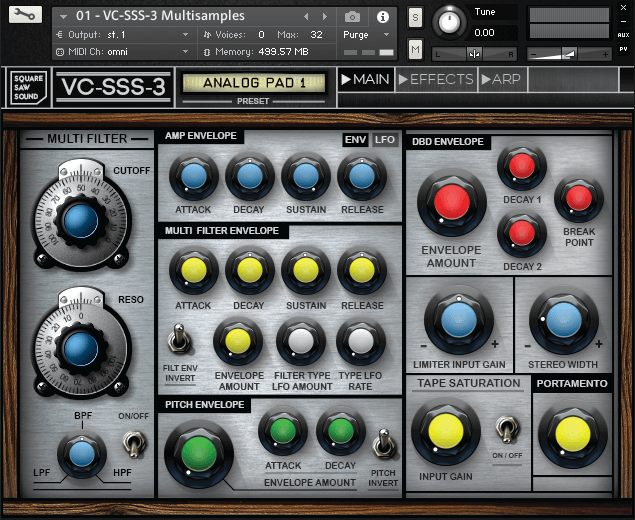 Each product contains 3 Kontakt instruments: 'Multi-Samples,' 'Loop Machine' and 'SFX.'
Multi-Samples: Each multi-sampled patch has been created by carefully sampling the EMS VCS3 and the EMS Polysynthi at various pitches across several octaves.
Loop Machine: Each looped sequence has been time stretched using Kontakt's 'Beat Machine' algorithm to allow all sequences to be played in sync with the tempo of your host DAW.
SFX: SFX are a collection of 'one-shot' and looped sound effects and ambiences perfect for creating soundscapes and special effects. Half of the SFX for the VC-SSS-3 were created using patches inspired by electronic music pioneer, Delia Derbyshire's original 'dope sheets' and recording notes from some of her personal patches for the EMS VCS3.
The VC-SSS-3 includes 207 multi-sampled patches, 248 looped sequences and 412 SFX. The SSS-Polysynth includes 213 multi-sampled patches, 186 looped sequences and 184 SFX.
There is also a collection of 150 Kontakt instrument presets for each product. The presets are organized into categories such as bass, pads, keys etc.
The VC-SSS-3 and the SSS-Polysynth both share the same GUI layout, features and effects. Each instrument preset menu allows you to scroll through the raw sampled sounds of the EMS VCS3 and the EMS Polysynthi.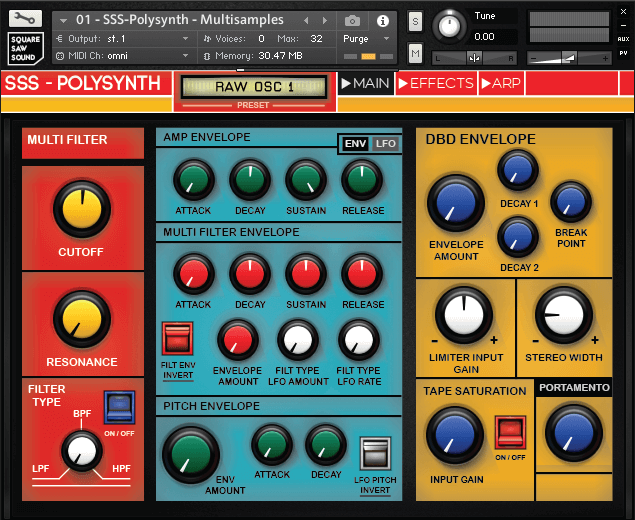 The instruments utilize Kontakt's built-in effects processing to offer a wide range of options for sculpting and manipulating the raw sounds. Each instrument has filter, envelope and LFO controls as well as portamento and a white noise generator.
There are a collection of modulation effects such as vibrato, tremolo, autopan, phaser and flanger as well as several distortion and saturation effects. Further ambience and filtering can be added with the speaker cabinet, delay and convolution reverb, which contains impulse responses of real plates, springs, halls and special fx. Last but not least, there is a built in arpeggiator with 32 step velocity sequencer.
The VC-SSS-3 and SS-Polysynth are available for the intro price of £79 GBP incl. VAT each until November 30th, 2018 (regular £99 GBP incl. VAT). Kontakt 5.7.3 or above is required (full version).
More information: Square Saw Sound