Squaredheads has released version 2.2 of Nora, its pattern based arpeggiator/phrase sequencer designed to allow the creation of solo melodies, rhythmic basslines, or stabs.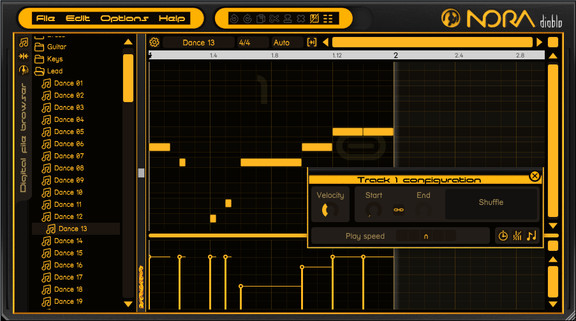 Nora has been updated to v2.2. This update offers an improvement on UI feedback features as well as at internal level, in order to leave it prepared for future updates.
Changes in Nora v2.2
Added: MIDI FX version for Logic Pro X.
Added: Optional Nora Diablo mod.
Added: Automatic pattern/clip naming.
Added: Visual feedback for currently edited clip or pattern.
Added: 303 Generator now has a transpose parameter.
Added: Added a panic command.
Added: MOD: The color editor has been improved and now supports a relative mode.
Modified: Patterns increased to 64 per track.
Modified: Now it is allowed saving sequences while the randomizer window is open.
Modified: MOD: Expanded few ranges – it won't affect current mods.
Bug fixes: Improved the stop process in order to do it CPU friendly.
Bug fixes: Dock playlist status' somewhat inconsistent behavior is now completely fixed.
Bug fixes: Fixed casual random 1-pixel movements of notes/clips with certain zoom levels within certain hosts.
Bug fixes: Browser maximum width was excessive.
Bug fixes: Ghost color wasn't being used in the Pattern Editor.
Bug fixes: Moving clips in the playlist along their tracks provoked they stayed unselected.
Bug fixes: Fixed a memory leak when closing detached windows using the SO native tools.
Bug fixes: Fixed a bug within the undo engine and when making clips/patterns unique.
Bug fixes: MOD: Pattern editor patterns' labels were drawn with a bad offset. Now you may adjust them within the Font editor.
Extra plug-in Noraharm: NoraHarm generates an output with the same MIDI channel as the input.
Nora for Windows and Mac (VST/AU) is available for purchae for 49 EUR.
More information: Squaredheads