Solid State Logic has announce a trio of major new developments for their acclaimed Duende Native range of plug-ins at the 2014 ProLight & Sound Show (Hall 8. Stand L80).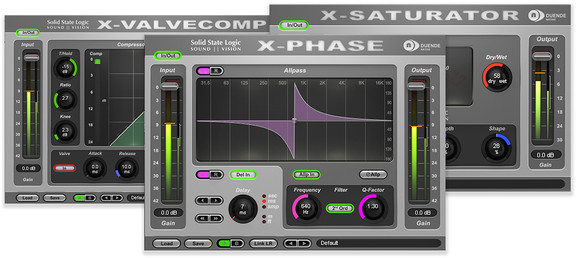 The superior audio quality and deep feature set of the SSL Duende Native plug-in range has earned the respect of a very discerning clientele through the years. The three new plug-ins complement the existing range with two plug-ins (X-Saturator & X-ValveComp) designed to bring some analogue saturation and distortion emulation to your digital DAW and the third (X-Phase) delivering high precision frequency specific phase correction. The new plug-ins are due for public release by May 1st 2014. To coincide with the new plug-in release SSL has announced migration of the entire Duende Native plug-in collection to the iLok copy protection system. SSL has also announced a summer release for AAX versions of the entire suite.

"We're excited to bring these new tools to the Duende family. Like the others in the Duende range the new plug-ins are a mix of easy-to-use sound sweeteners and technical problem-solvers." says Jim Motely, Head Of Business for Workstation Partner Products at SSL. "By responding to our customer's requests to move to what many see as the industry-standard copy protection system we hope to ensure that using Duende plug-ins is as simple an experience as possible".
The plug-ins will be available from May, 2014. Release of versions of the entire Duende Native plug-in suite which are compatible with Avid AAX format and thus ProTools 11 are due for release in Q3 2014. The AAX versions will be free to all existing iLok based Duende Native plug-in owners.
More information: Solid State Logic