Stagecraft Software has released its new effect plugin MadMod, taking modulation much further than your typical reactive filter.
The plugin links 6 different parameters to incoming audio, each with its own custom scaling.
This means you can cause the filter to fade in, skew higher, modulate more, flatten out, all at the same time and all scaled to incoming audio.

Stagecraft has added a trigger mode which changes how the mods react to audio. Rather than tracking, in trigger mode the mods will kick in when the threshold is passed, but then go through a decay phase, and release only when the threshold is crossed again.

As with all of our plugins, the displays we add are in-depth and powerful. Our design philosophy is that every knob should have a visible effect as well as audible, and that all graphs and images should be interactive.
XFade is designed to give the producer or DAW DJ a simple crossfader, suitable for mixing, production, or live performance.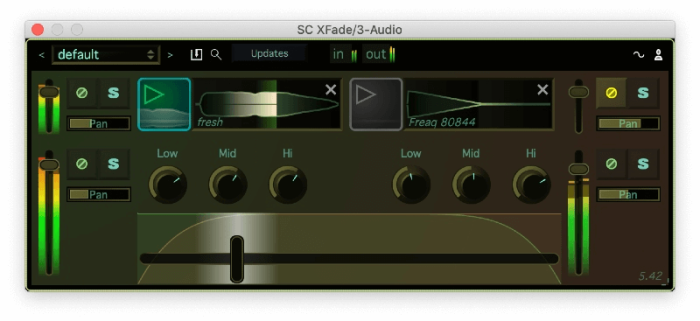 Xfade allows you to fade between 2 input streams within the DAW, overlaying samples on each side as well.
XFade operates with 0 latency and can fade in/out more than once in a buffer, so it will be lightning-fast even with larger buffers and older sound-cards. If you plan on crab scratching in your DAW, this is a must. Be sure your midi device is high speed, XFade can keep up!

You can adjust the crossfade slope. Use a sharp curve for fast cuts, or a gradual slope for slow and smooth fades between tracks.

Additionally, there are sample players on each side, which can overlay audio int the mix. Keep an extra track to fall back on when mixing, blast an air horn or one shot for some extra energy, or have a loop to fall back on while your guys drop a solo. A must for live performance.
MadMod and XFade are on sale at Plugin Boutique for only £7.95 GBP / $10 USD each until November 18th, 2019. The plugins support VST/VST3, AU and AAX formats.
More information: Stagecraft Software