Plugin Boutique has launched a sale on Stagecraft Software, offering a discount on two of its audio effect processors for a limited time.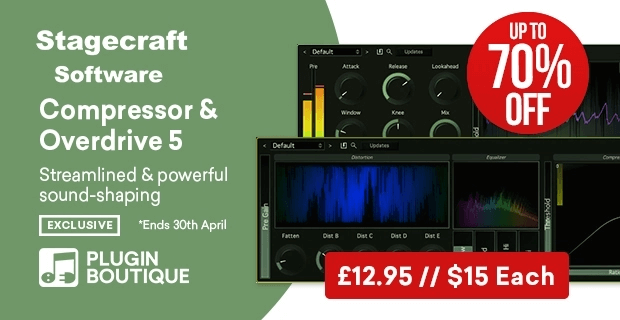 Expand your collection of creative production tools with Stagecraft's flagship plugins, Compressor & Overdrive 5. Save up to 70% off and get them for £12.95 / $15 each, exclusively at Plugin Boutique.
Compressor is Stagecraft's take on the classic and vital effect, embellished by its own custom touches. Use this plugin to alter the dynamic range of your signals and you will not be disappointed.
Overdrive 5 features five high quality distortions. Scaling in each distortion gives you a wide range of distortion possibilities, from light sweet distortions to heavy, dark or grungy growl distortions.
The offer expires May 1st, 2020.
More information: Stagecraft Software