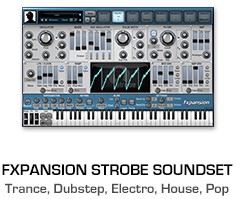 Standalone-Music has released its Strobe Soundset, a collection of 145 presets by 7 Skies, for the Strobe synthesizer of Fxpansion's DCAM Synth Squad.
Reviewed as "one of the best Strobe soundest to date", the Standalone-Music | Strobe Soundset is huge and versatile 145 presets bank for the tiny but powerful synth by Fxpansion.

Many often confuse Strobe as a "bass only" synth but this soundset will prove you otherwise, the patches vary from rich lead sounds to sweet analogue pads, supersaw-like sounds to nasty dubstep sounds and of course a huge variety basses, making this bank extremely versatile and perfect for every kind of music you produce, wether it's Electro, House, Trance, Dubstep, Pop or Hardstyle.
The soundset is available to purchase for 25 EUR.
Standalone-Music has also announced it is now offering various bundles of its soundsets.
If you ve ever purchased 3 or more of our products in a row you probably noticed that in the past we gave you a little discount. This was never a "public" action on our website, however, we've always cared a lot about the support you show us by legally download our releases, so we've always tried to be fair with you as you were with us.

It is for this reasons that today we launch "Standalone | Bundles", 3 different collections (Everything, Virtual and Hardware) that allow you to get 2 or more soundsets at a time but for a different and lower price compared to the one you would get by purchasing the same soundsets separately.
More information: Standalone Music / Strobe Soundset