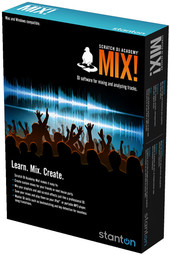 Stanton has announced the release of Scratch DJ Academy MIX, an intuitive DJ software application developed by Scratch DJ Academy, which helps music fans mix their digital music files while they learn the DJ basics along the way and inspires professional DJs to better analyze their tracks.
Scratch DJ Academy MIX! is an exciting DJ software application that is perfect for the aspiring DJ who is advancing their skills, all the way up to the professional who needs a sophisticated tool to perfect their game. DJ's can practice or perfect a mix within the software using intuitive tools to create high quality, professional mixes time after time.
Scratch DJ Academy MIX! features
Accurate tempo (Beats per Minute) detection.
Automatic Beat Mapping using advanced transient and customized groove analysis.
Automatic Key Detection, with accurate, cross genre results.
Playlist Hints highlight all compatible songs using BPM and Key matches.
Helpful mixing and DJ hints from Scratch DJ Academy curriculum.
Customizable Scratch FX created by Scratch DJ Academy Instructors.
Import music by individual song or folder.
Drag and Drop music with iTunes®, Windows Explorer® and Mac OSX Finder.
Instant previewing of each song transition, for faster mixing.
Preset mixing points of where Song B mixes into Song A, making mix placement simple.
Preset length of each mix to 4-16 bars, or "drop" setting, for all styles.
Advanced Mix Editing with Cue Adjustments and Waveform View with variable zoom.
Sessions can be saved for sharing and future editing, enhancing and sharing.
Volume normalization and automatic Crossfade of mix transitions.
Integrated MP3 ID3 Tag Editor to make your corrections viewable in other applications.
Customizable, searchable and sortable list views of your music collection.
Song Information window with TAP BPM Correction, Beat Grid view and Bar/Beat display.
Compatible with MP3, AAC, AIFF, ALAC, and WAV formats.
Completed mixes compatible with iTunes®, iPhone, and iPod. iPad
Automatic software updates.
Scratch DJ Academy MIX! will be available soon for PC and Mac.
More information: Stanton / Scratch DJ Academy MIX!