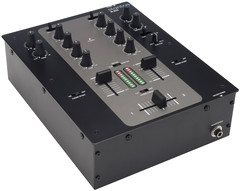 Stanton has introduced the M.203, an entry-level 2-channel mixer.
The M.203 breaks all barriers in terms of what DJ's have come to expect in its price class. The clean and intuitive layout was designed by working DJs with the goal of giving aspiring DJs a comfortable layout with a minimum of fuss – yet even experienced pros will be able to appreciate the robust feature set of the M.203.

"There's not a lot of mixers at this price point offering the rugged build quality, 3-band EQ with complete kill, soft start, and versatile "switching" inputs in such a compact 2-channel design," offered International DJ and Stanton Product Specialist Darrin "B-SIDE" Young. "This mixer gives you a lot more for your money including "FET Circuitry" on the crossfader. The M.203 provides DJs with every feature they need to start out, grow and excel in their craft – it definitely makes the Cut!"

The M.203 not only provides an amazingly comprehensive feature set, but also shares the same attractive design and rugged steel inner-chassis construction as the M.207, giving it a look and feel far more expensive than its price would indicate.
M.203 features
Rugged steel inner chassis design.
Adjustable crossfader curve with FET-isolated "Cut" setting.
1 Phono/Line (switchable), 1 Line RCA inputs per channel.
3-Band EQ per channel with complete kill (-64dB).
Cue pan fader.
Master/Cue headphone source switch.
Mic input with tone control.
RCA Master & Record Outputs.
45 mm user replaceable/long-life Alpha crossfader.
Two 10-segment LED ladder meters.
Cue/Master meter switching.
Striking black/gray color scheme.
Matte finish minimizes distracting reflections.
The M.203 will be available soon for an MSRP of $99 USD.