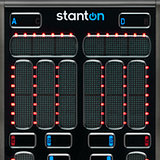 Stanton has introduced the SCS.3m, the latest innovation in Stanton's award winning SC System MIDI controller line.
The SCS.3m can be used as a standalone controller for basic software mixing, but when paired with the SCS.3d deck controllers, give you an unparalleled MIDI control rig that allows you to plug and play anywhere in the world within minutes. With a built-in powered USB hub and magnetic connecting system, the SCS.3m can be easily connected to one or more SCS.3d controllers for a high tech version of a full traditional DJ setup… without the weight, size and connectivity issues.
SCS.3m features
4 Channel Control
The SCS.3m features two channel strips for control of two channels of a software mixer at any one time. However, each channel strip can be switched to control an additional two channels for a total of four channels of control with the 3m, providing a scalable interface while remaining portable at the same time. When switching between decks the 3m will remember which control mode each deck was on (FX or EQ) and will automatically update the sliders to that channel's last settings.
EQ / FX Control Modes
The 4 touch sensitive sliders and 4 buttons in each channel strip can be switched to control either EQ or FX functions (or remapped for other on screen controls). This allows for 8 parameters and 8 buttons to be accessed within each channel (deck). When switching between control modes the sliders and button states will automatically update to reflect their correct settings.
USB Hub
The built in powered 4-port USB hub can be used to connect additional SCS.3 products to the SCS.3m allowing a single USB cable to be connected to the computer. With 2 ports on the rear of the unit it's possible to connect devices very quickly for fast setups in mobile environments. 2 additional ports on the inside of the back panel of the SCS.3m allow cables to be routed from additional 3 series controllers or storage devices such as flash drives. With a power connection the USB hub ensures that devices receive enough power for complete stability in any performance environment.
Traktor
Every SCS.3m comes with the ability to unlock the LE version of Native Instruments' award winning Traktor PRO software. One of the first true Traktor PRO LE controllers, the SCS.3m is specifically designed to incorporate full application feedback from Traktor, ensuring complete parity between hardware and software. iTunes® integration, broad file compatibility, and an advanced tempo detection / synchronization engine enables you to easily browse your music collection, load a song, sync the decks for an automatic perfect beat match, and start mixing in no time, even without any DJ experience. For the more accomplished DJ, Traktor PRO LE also opens the door to advanced performance techniques such as dropping FX and looping for live remixing.
Intelligent Firmware
The SCS.3m features 3 intelligent firmware control modes for use with different types of applications. Standard mapping into popular DJ software such as Traktor Pro®, Deckadance®, Ableton Live®, Mixvibes or any other MIDI compatible software is achievable and easy via traditional MIDI learn. When doing MIDI learn the 3m will drive all its feedback to buttons and sliders automatically. When using software which supports MIDI feedback the 3m can also only send control information to the application and receive all of the control settings back from application. Last but not least the SCS.3m will work in a completely flat state so every button and LED can be programmed towards for use with DaRouter® and presets or applications which natively support the SCS.3m.
The SCS.3m will be available worldwide in May of 2009, for an MSRP of $249 USD.
Visit Stanton for more information.