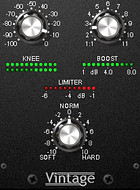 Starplugs has released Vintage Compressor, a transient controlled high quality compressor in a classic design.
The integrated 4-Pole Cascade Limiter concept gives you an audio tool for channel-strip and mastering tasks without any delay. All classic compressor parameters are transient controlled to create a reliable output level with a classic and warm sound.
Vintage Compressor features
4Pole Cascade Limiter.
Transient Controlled Knee.
Single Track Compressor.
Mastertrack Compressor.
No delay.
Vintage Compressor is available as a VST effect plug-in for Windows PC for 49.99 EUR (EU plus 19% VAT) / $66.49 USD. A demo version is available for download from the product page.
Visit Starplugs for more information.