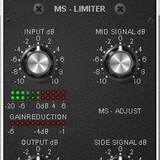 Starplugs has announced the release of Vintage MS-Limiter, a classic high precision limiter effect plug-in for Windows.
Vintage MS-Limiter is based on an integrated 4-Pole Cascade Limiter concept and introduces an additional MS-Matrix for independent adjustment of the mid- and side-elements of the stereo input signal.

Vintage MS-Limiter gives you the control to "open up" your mix again by adding more side signal. In the case of a too wide stereo base with no real pressure even with high limiting levels the MS-Limiter is the perfect tool to give more power and precise vocals to your mix by adding more mid signal. Mastering and live stream limiting with a reliable output level and a classic and warm sound.
Vintage MS-Limiter features
4-Pole Cascade Limiter.
Independent adjustment of mid- and side-signal.
Master limiting.
Live stream Limiting.
No delay.
Vintage MS-Limiter is available to purchase as a VST effect plug-in for PC, priced at 49.99 EUR.
More information: Starplugs