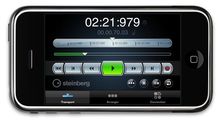 Steinberg has announced Cubase RC, an iPhone controller application.
Today Steinberg is showcasing the development of a remote controller application for the Apple iPhone and iPod Touch products at Winter NAMM 2009. The Cubase RC application runs on both handheld devices to provide comprehensive control for Steinberg's Cubase 5 Advanced Music Production System. Owners of these two Apple products will be able to control Cubase for an interactive and enjoyable mobile controller experience, including functions like activating recording while playing an instrument or performing and remixing a song live on stage using the Arranger Track.
Cubase RC will be available free of charge exclusively through the Apple iTunes Store from Q2 2009.