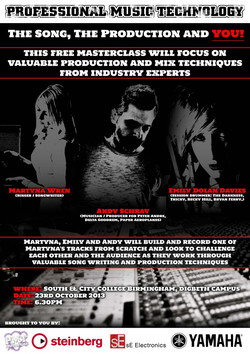 Steinberg has announced upcoming music production workshops in the United Kingdom. Together with Yamaha and sE Electronics, Steinberg has scheduled tour dates from Poole in the South to Perth up in Scotland.
As a part of the ongoing Steinberg Training Center education program, these interactive education events feature critically acclaimed singer-songwriter Martyna Wren, session and touring drummer Emily Dolan Davies (Tricky, Becky Hill, Bryan Ferry, The Hours) and multi-instrumentalist, producer and Cubase expert Andy Schrav (Peter Andre, Delta Goodrem, Paper Aeroplanes). Over the next month the artists will visit South and City College in Birmingham, Derby University, Edinburgh College and Perth University and run a series of customized workshops for enrolled students.

In addition to supplying top-quality artists, the manufacturers will also provide a collection of the latest music production equipment for the workshops. The tour ends at the Music Production Expo in London where all manufacturers will have representatives available for one-on-one sessions and product related questions.

Richard Johnstone, UK Business Development Manager comments: "This is a superb opportunity to not only see and hear the very latest music production software and hardware in action, but to see artists and industry professionals showing how these products can help you in developing and enhancing your song-writing process, through to final production."
Schools can find more information at www.steinberg.net/en/education/training.html and apply by emailing educationteam@steinberg.de.
There are also a number of events open to the general public. Registrations are required and the events are booking out quickly.
More information: Steinberg