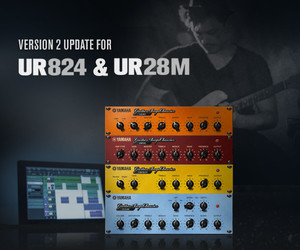 Steinberg has announced the release of version 2.0 firmware updates for its UR28M and UR824 USB audio interfaces.
Steinberg Media Technologies GmbH today enhances their UR28M and UR824 USB audio interfaces with a comprehensive firmware update, adding class-compliant mode and loopback capability, four DSP-based guitar amp simulations for latency-free monitoring, a VST 3 effects bundle and a free copy of Cubase AI 7 for all registered UR28M and UR824 customers.

"This is possibly the widest ranging firmware update for any Steinberg hardware," remarked Stefan Schreiber, product marketing manager at Steinberg. "Offering class compliance is definitely a first for us, and is the perfect complement for our Cubasis iOS app."
URM28M/UR824 firmware v2 features
New Guitar Amp Classics effect bundle running on DSP, allowing latency-free monitoring with guitar amp effect.
Basic FX Suite VST 3 plug-in bundle, consisting of three software components: Sweet Spot Morphing Channel Strip, REV-X and Guitar Amp Classics.
CC mode for connectivity with the iPad (2 or later) through Apple's iPad Camera Connection Kit.
Loopback function for internet live streaming: incoming audio signals are merged to playback signal from audio playback software.
Free version of latest version of Cubase AI 7 for all registered UR users, providing a set of new features.
The firmware and tools update are available as downloads in the support area on the Steinberg website. Cubase AI 7 is available for users logging into their MySteinberg account.
More information: Steinberg / UR28M/UR824