Steinberg has announced the highly anticipated release of Cubase 10, the latest version of its award-winning DAW.
Cubase Pro 10 brings all the technological advancements to the table, the German expertise of which has been accumulated over three decades of extraordinary contributions to the industry. Cubase Artist 10 is a slimmer edition, offering the same core technologies as Cubase Pro alongside many dedicated production tools. Instantly accessible, Cubase Elements 10 is the first step into the world of music production with Cubase.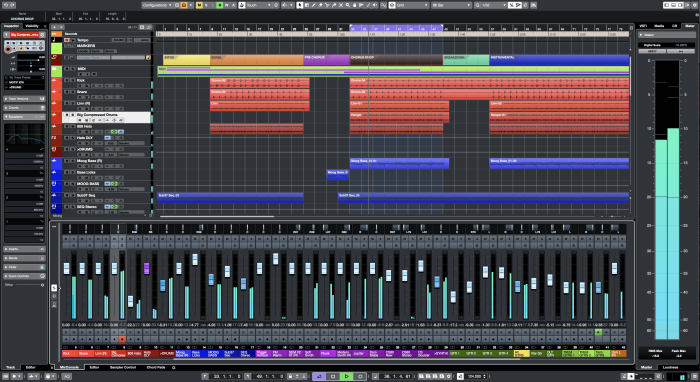 "This version is a milestone in the innovational history of Cubase. With nearly 30 years to look back on, Cubase Pro 10 encompasses everything required from a DAW — no matter who you are, no matter what your background, no matter what your musical experience," comments Matthias Quellmann, senior marketing manager for Cubase.
Cubase Pro 10 exclusives
Available to Cubase Pro 10, VariAudio 3 is the perfect and eminently powerful pitch correction tool, introducing many enhancements for editing micro pitch levels and adjusting formant shifts.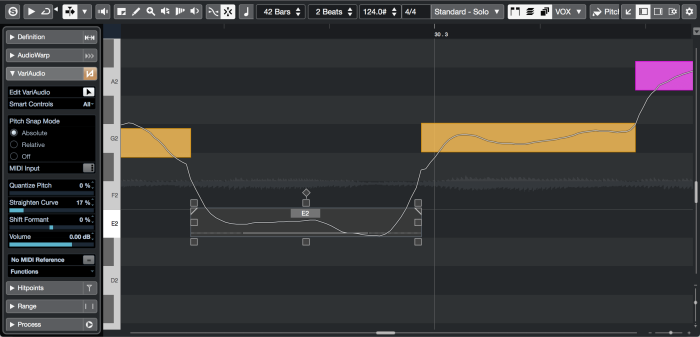 Another novelty is MixConsole Snapshots for saving and recalling a current mix within the mixer, or for creating and comparing alternate mixes of a project. Cubase Pro 10 also introduces Audio Alignment, a great new feature that allows users to align stacked recordings extremely fast so that vocal and other tracks are in complete sync. REVerence, the convolution reverb in Cubase Pro, includes now 20 new impulse responses, covering a range of vintage reverbs. Smaller feature additions and enhancements include AAF import/ export for exchanging data with different systems, improved editing to picture, and the Steinberg Virtual Reality production suite that offers tools for producing VR content.
Amazing additions to Pro and Artist
Both the Pro and Artist editions of Cubase 10 now include Distroyer, a remarkable addition to the list of effects processors that infuses asymmetric distortion. And side-chaining has also been touched on: new to both Pro and Artist is the simplified side-chain setup that completes the signal routing with only a few clicks. Since both editions feature the unique Note Expression capability, the next step now was to offer MIDI Polyphonic Expression (MPE) support for multidimensional controllers.
Family features for Pro, Artist and Elements
In all editions of version 10, the Channel Strip has undergone significant changes, featuring new metering elements in each module, providing immediate visual feedback and further facilitating the mixing process. Groove Agents SE 5, one of many impressive instruments within Cubase, boasts many enhancements to its user interface and comes with an abundance of new acoustic and electronic drum content. The audio engine has also been refined, now supporting 32-bit integer and 64-bit floating-point audio for recording, importing/exporting, and converting. Plug-ins have been redesigned and can now be dragged from the Media Rack and dropped directly into the project, creating an instrument track automatically, while the user interface supports HiDPI for high-resolution displays.
The additional content in Cubase 10 rounds out the extensive feature list: 5 GB of sounds and loops cover various genres, produced by renowned artists the likes of Florian Meindl, Rawtekk, Beat Butcha and many more.
Quellmann continues:
"The audio engine in Cubase delivers pristine, unprecedented, 'unheard-of' quality: you'll never hear the DAW, you won't perceive unexpected coloring to your recordings, you'll forget it's even there — the sound quality is literally unheard of. The editing and production tools are amazing, providing a smooth, firm foundation for your creative input. The new aesthetics of the user interface ensures focused and expedited usability, while the production-grade content included within Cubase is not only fun to use but offers a great starting point to creating any style of music.

"With all the effort that we have put into this major iteration and considering the positive feedback from professional recording engineers and producers throughout its development, I assure that Cubase 10 pushes the envelope beyond the many expectations."
Cubase 10 features
VariAudio 3: Ultimate control of your audio, with more creative tools and Smart Controls to speed workflow. [Pro]
MixConsole Snapshots: Instantly recall different project mixes and settings to quickly compare mixes and add mix notes. [Pro]
Audio Alignment: Stack and match recordings quickly, easily synchronizing them to a reference track. [Pro]
New channel strip: Redesigned Channel Strip offers better metering and functionality. [Pro/Artist/Elements]
32-bit integer and 64-bit audio continues the Cubase audio engine's commitment to ultimate, no-compromise quality. [Pro/Artist/Elements]
Easy side-chaining: Quickly and easily set up side-chaining to make space in mixes or create distinctive effects. [Pro/Artist]
Groove Agent SE 5 brings a new user interface and many improvements to the best drum production tool. [Pro/Artist/Elements]
5 GB of high-quality sounds and loops from six highly acclaimed producers. [Pro/Artist/Elements]
AAF support lets you exchange multimedia data with all the most commonly used applications. [Pro]
Distroyer adds everything from subtle analog warmth to searing heat for mixes and individual instruments. [Pro/Artist]
Vintage Verbs for REVerence: Better management, smoother workflow and 20 new impulse responses brings REVerence greatness to your projects! [Pro]
Latency Monitor lets you quickly and easily know exactly where — and how much — latency is occurring. [Pro/Artist/Elements]
Full support for high-resolution displays under current macOS (limited support for Windows 10). [Pro/Artist/Elements]
Effects in the Media Rack: Radical improvement of plug-ins workflow, with drag and drop functionality and improved display. [Pro/Artist/Elements]
MPE support: Easy and convenient setup of MPE controllers. [Pro/Artist]
Improved editing to picture for video soundtrack production. [Pro]
Steinberg Virtual Reality: VR production suite adds a suite of professional yet intuitive virtual reality audio production tools. [Pro]
ARA support: Forthcoming support for extended communications between ARA plug-ins and Cubase. [Pro]
Cubase 10 is packed with a wide range of usability, performance and quality improvements. [Pro/Artist/Elements]
The Cubase 10 editions are available from resellers and through the Steinberg Online Shop, with the following MSRP (all prices include German VAT):
Cubase Pro 10 579 EUR (boxed) / 559 EUR (download only).
Cubase Artist 10 is 329 EUR (boxed) / 309 EUR (download only).
Cubase Elements 10 99.99 EUR (boxed). Download orders are exclusive of USB-eLicensers.
Various downloadable updates and upgrades, crossgrades, and education versions are exclusively available through the Steinberg Online Shop and the Steinberg website.
Customers who have activated Cubase 9.5 editions and earlier versions since October 15th, 2018, are eligible for a free, downloadable Grace Period update to the latest respective version.
More information: Steinberg