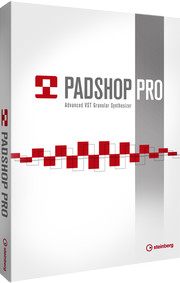 Steinberg has released the Padshop Pro granular synthesizer for Windows and Mac.
Steinberg first released a basic version of Padshop in February of this year with the larger Padshop Pro already planned for professionals to delve deeper into the possibilities of granular synthesis.

"Padshop Pro excels through its easy and efficient way to control the many parameters involved in granular synthesis," commented Matthias Quellmann, product marketing manager at Steinberg. "And with the product variety that we have now introduced to Padshop, users are free to choose the degree of complexity that comes with this instrument."

Padshop Pro delivers two individual tiers in granular textures that are mixed and processed with a dozen high-quality filters, modulation and delay effects. Each layer consists of one oscillator for generating up to eight grain streams with innovative parameters, two LFOs that offer a choice of six wave shapes and two ADSR envelopes that can be applied to various sound parameters, therefore boasting a flexibility absolutely new to granular synthesis.

Offering more effects and more presets than in the basic version, Padshop Pro shines with a 3-band parametric EQ on each layer, the algorithmic reverb with dedicated equalization and 50 additional presets. Also included are sample import for user customizable sounds as well as VST backward compatibility and AU support.

Padshop Pro is available as full retail version alongside two upgrades from the basic Padshop version. Both the retail version and the upgrade bundle include the Zero Gravity expansion pack. This comprises an additional 250 presets plus a brand-new SoftGrain Wave ROM with 150 specially selected samples.
Padshop Pro features
Advanced granular synthesis engine with 2 independent layers and individual oscillator, edit and FX sections.
Up to 8 grain streams per oscillator for impressively rich and spacious structures.
Intuitive user interface for effective usability and direct accessibility.
More than 450 presets dedicated to atmospheric pads and evolving textures.
SoftGrain Wave ROM with hundreds of sounds for custom presets and individual tweaks.
Sample import via drag-and-drop for advanced sound design projects and custom presets.
10-stage Modulation Matrix with Note Expression support for unlimited flexibility.
12 different high-quality filter types for each layer.
Step Modulator for rhythmic triggering of oscillators, filters, amp and pan.
2 LFOs and ADSR for filters and amp envelopes.
Mono and Poly Mode with Legato and Glide.
FX section with high-class modulation and delay effects.
3-band parametric EQ per layer to increase the clarity and smoothness in the mix.
Algorithmic reverb to enrich your sound with fullness and atmosphere.
Zero Gravity VST Sound Instrument Set with 250 new presets and an additional SoftGrain Wave ROM with 150 new samples (included in retail and upgrade bundle versions).
VST 3, VST 2 and AU compatible host application support.
Padshop Pro is available to purchase for 79.99 EUR. The Padshop Pro upgrade from Padshop is 9.99 EUR, and the Padshop Pro upgrade bundle from Padshop (including the Zero Gravity expansion pack) is 34.99 EUR. The Zero Gravity expansion pack is available as a download for 29.99 EUR. Prices incl. VAT.
More information: Steinberg / Padshop Pro