Steinberg has announced the availability of Dorico SE, an introductory version of its advanced music notation software, that is completely free to download and use.
It is the ideal starting point for beginning composers and arrangers, and is fully compatible with the other products in the Dorico family.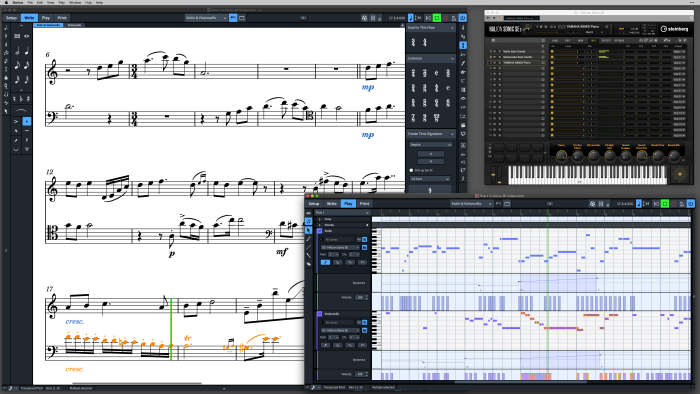 Dorico is widely acknowledged as the innovative leader in music notation software, and Dorico SE allows every musician, whatever their budget, access to the same powerful tools used by professionals worldwide in the fields of music for film and TV, concert music, musical theatre, and music publishing.
Dorico SE brings a number of unique capabilities to free music notation software for the first time, particularly in the area of sound and playback, including:
Sequencer-style Play mode, complete with piano roll editor, velocity editor, automation lanes for MIDI controllers, and a unique new dynamics lane that allows tweaking of the playback effect of dynamic markings written in the score.
Support for all VST 3 instrument and effect plug-ins, in addition to the included HALion Sonic SE 3 sampler with more than 1,000 production-ready sounds, and a suite of 30 effects plug-ins.
A full audio Mixer, with sends and inserts for effects, and a global effects channel.
The same award-winning, high-precision audio engine found in Steinberg's leading digital audio workstation, Cubase.
Easy export of audio files in MP3 and WAV format.
The same powerful workflows for inputting, editing and arranging music that make Dorico Elements and Dorico Pro so fast and easy to use are also included in Dorico SE, together with its celebrated single-window user interface, which puts everything you need within easy reach and one or two clicks of the mouse. Dorico SE also sports a comprehensive set of key commands that make it possible to fly through input and editing.
Dorico SE can open projects created in Dorico Elements and Dorico Pro, and projects created in other products in the family can be edited in Dorico SE provided they included only one or two players. Projects with a greater number of players can still be opened, played back and printed.
To help young composers and arrangers make a flying start with learning Dorico SE, a dedicated series of short tutorial videos is available on YouTube to lead new users step-by-step through the process of creating their first project and mastering Dorico SE's basic workflows.
Product Marketing Manager for Dorico, Daniel Spreadbury, said:
"Supporting the next generation of composers, arrangers and educators is a vital part of our mission at Steinberg. Dorico SE demonstrates our commitment to making our powerful, industry-leading tools available to all musicians, whatever their budget and level of experience. We're looking forward to seeing and hearing all of the incredible music that Dorico SE will help young musicians to create."
Dorico SE features
The same beautiful automatic engraving as Dorico Pro.
Easy note input using mouse, computer keyboard or MIDI keyboard.
Intelligently adjusts notation as you write.
Any number of movements or pieces in a single project.
Automatic layout of instrumental parts .
Stunning playback — HALion Sonic SE 3 and hundreds of sounds included.
Supports VST 3 virtual instruments and effects processors (30 included).
Sequencer-style piano roll MIDI editor.
Sophisticated chord symbols, unpitched percussion and drum set notation.
Unbarred music, tuplets across barlines, microtonality, etc. all handled correctly — no workarounds.
Transfer to and from other programs via MusicXML, MIDI, PDF, etc.
Dorico SE is available to download from the Steinberg website completely free of charge. Dorico SE users who later wish to trade up to Dorico Elements or Dorico Pro will benefit from preferential pricing and can find the latest offers exclusively in the Steinberg Online Shop.
More information: Steinberg