Steinberg has launched Groove Agent 4, the drum workstation that comprises different drum modules each specialized in certain acoustic and electronic drum styles.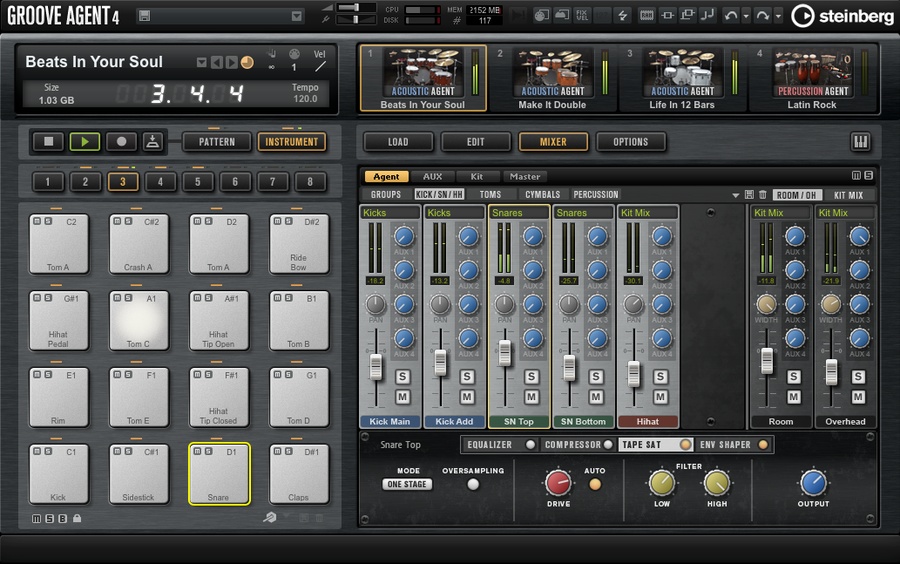 Together with its additional capabilities to program patterns easily, mix drum tracks, add studio-grade effects and the perfect incorporation with Steinberg's award-winning Cubase software, Groove Agent 4 is the ideal tool for composers, producers and musicians.

Groove Agent 4 features three drum modules, also known as Agents, which trigger a wealth of grooves and samples. Each Agent offers a set of specialized tools essential to the style of drum production in demand, but Agents can also be combined, giving Groove Agent 4 its unique multi-Agent architecture.

The Acoustic Agent consists of three drum kits: Studio Kit, Rock Kit and Vintage Kit. Each kit includes dedicated controls that adjust the mix of room and overhead microphones, bleeding signals as well as further kit tuning. Armed with a dedicated channel strip sporting EQ, compressor, tape saturation and envelope shaper, the acoustic drum mixer comes with up to 20 microphone channels, six group channels and four aux buses. The Style Player provides over 50 contemporary styles to choose from. Once selected, Groove Agent 4 offers a groove with intros, fills and endings and up to 16 variations of the main part that can seamlessly be blended by complexity and intensity.

The Beat Agent gets down to intricate beat production, boasting over 100 kits quickly accessible via the MediaBay and the Sample Browser as well as a broad scope of editing capabilities available through the Sample Editor. The Drum Classifier detects the different kit components in a loop and allows users to extract, replace and rearrange them. The Vintage and Turntable modes add the sound perceived in early 12-bit drum machines.

The Percussion Agent includes percussion instruments the likes of bongos, shakers, tambourine and congas. Its Style Player combines up to 8 substyles and adjusts the complexity and intensity of each instrument. With more than 20 styles the Percussion Agents covers grooves ranging from disco, funk, pop and R&B to classic percussive standards, such as bolero and bossa nova.

The entire library encompasses over 22,000 samples and more than 3,800 grooves. All drum kits have been recorded in 24-bit resolution while the Acoustic and Percussion Agents also offer 16-bit versions on top.

Additional features highlighted in Groove Agent 4 are the Pattern Editor for easy editing of grooves and the Jam mode that creates backing tracks on the fly. The overall kit mixer provides 29 quality effects and 16 stereo outputs that can be fed directly to any host mixer. In conjunction with Cubase, Groove Agent 4 takes integration to a new level, allowing users to drag and drop samples and MIDI patterns from Cubase onto Groove Agent 4 or drag patterns from Groove Agent 4 back into Cubase. Drum maps from Groove Agent kits are automatically created and pad names are copied to Cubase.

"The fourth iteration of Groove Agent gives us reason to cheer: we've been working hard on delivering a multi-role virtual drummer that is matchless," said Matthias Quellmann, product marketing manager at Steinberg. "We are confident that Groove Agent will equally become a rich source of inspiration and creativity for musicians all over the globe."
Groove Agent 4 features
Complete virtual drum workstation including three specialist Agents for drums, beats and percussion — combinable in four slots.
Huge library including over 22,000 samples and more than 3,800 grooves and patterns for any contemporary music style.
Acoustic Agent virtual drummer with stunningly detailed drum kits for unmatched realism.
Beat Agent drum sampler for electronic music production including advanced slice editing and automatic drum hit recognition.
Percussion Agent with more than 20 instruments to complete your virtual rhythm section.
Full pattern editor for groove editing on the fly.
Style Player plays in the desired complexity and intensity, generates auto fills and much more.
Jam mode creates immediate backing tracks, including intro, fills and ending.
Integrated mixing board with high-end audio effects for flexible control over all aspects of your drum sound.
Advanced Cubase integration with drag and drop, full automation and automatic drum map exchange.
Groove Agent 4 will be available for purchase from resellers from August 20th, 2014 for a suggested retail price of 179 EUR including German VAT. The Groove Agent 4 update from version 3 is now available as a download through the Steinberg Online Shop for 99.99 EUR, including German VAT.
More information: Steinberg / Groove Agent 4