Steinberg has announced the release of Groove Agent 5, the drum workstation that comprises different drum modules, each specialized in acoustic and electronic drum styles.
Featuring three drum modules, also known as Agents, Groove Agent offers a wide scope of specialized tools essential to in-demand styles of drum production.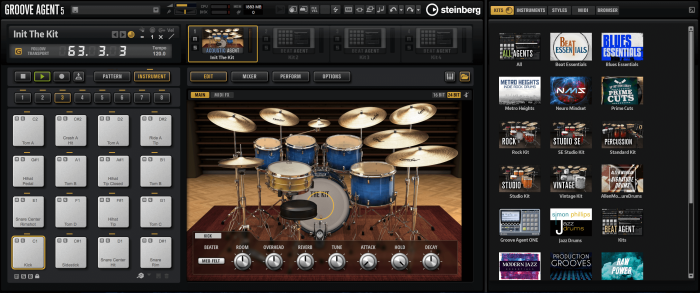 In version 5, the Acoustic Agent has been equipped with a new drum kit simply referred to as The Kit. Its samples were recorded at the Teldex Studios in Berlin, covering as many articulations as possible with high-end studio equipment.
Created by electronic artists the likes of Rawtekk/Noise Design, Joe Ford, Billain, Audeka, Current Value and zKlang, the Beat Agent has also received 30 exciting additions, now including not only beat patterns but also bass lines and other melodic parts or noises.
The graphical user interface of Groove Agent is now scalable to fit the real estate of any display, while supporting high-resolution HiDPI for more detail than ever before.
The Decompose feature was introduced to decompose samples into their tonal and noise parts which can then be easily layered onto the pads. Samples can now be recorded live directly in Groove Agent.
"Groove Agent 5 is a remarkable update including a ton of drums sounds for virtually every music style," said Florian Haack, senior marketing manager at Steinberg.

"With its fifth iteration, Groove Agent will continue to be a rich source of inspiration and creativity for musicians all over the world."
Groove Agent 5 features
New high-end acoustic kit recorded at Teldex Studios Berlin.
New kits for EDM, Trap and Future Bass.
20 new MIDI Styles with intro, outro and fills.
Decompose samples in noise and tonal.
External live sampling directly in Groove Agent.
Style Player for Beat Agent kits.
Pre-listening Styles and Pads.
New definable auto complexity mode.
Resizable user interface.
HiDPI support.
AAX support.
Groove Agent 5 is available for 179 EUR. Update are available from Groove Agent 4 at 99.99 EUR and Groove Agent version 2 and 3 for 119 EUR. All prices include German VAT.
More information: Steinberg