Previously only available for the iOS platform, Steinberg has released its award-winning DAW for handheld devices Cubasis 3 on Android, making the music production app accessible to the majority of smartphone and tablet users.
Alexander Gross, Cubasis lead developer, commented: "Developing a creativity tool that is used by people all around the world for bringing their musical ideas into reality is a big pleasure as well as a responsibility. As lead developer of Cubasis, I'm proud that the team's exceptional effort for creating a cross-platform codebase finally sees the light of day with the release on Android."

"This is a huge milestone in the evolution of Cubasis. We've been developing new features for Cubasis on the iOS platform at an extremely fast pace, and it just felt right to bring the powerful tools in Cubasis to the Android community of musicians as well," said Marketing Manager Lars Slowak.
Cubasis 3 offers great new features and enhancements for quick and easy results in recording and producing music. Group Tracks combines multiple tracks so that they can be processed and mixed as though they were a single track.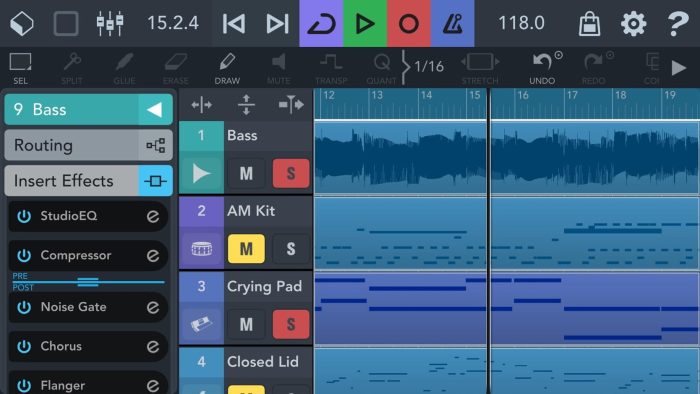 The Cubasis mixer takes advantage of the display's real estate, including useful zoom modes and an accurate level metering for every track. Users can add up to eight insert and eight send effects included in Cubasis.
Many other feature additions and capabilities in Cubasis 3 include:
MIDI resolution dramatically improved with 960 pulses per quarter note.
75 new effects presets.
Undo reinvented with History List.
Redesigned instruments and effects.
Updated audio, MIDI and automation editors.
Improved MediaBay for creating folders, moving files and sharing music.
Presets for scaling the user interface let Cubasis fit perfectly on any device.
Plus many other great additions, new in Cubasis 3.
Cubasis 3 for Android is available from Google Play, priced 54.99 EUR, including German VAT.
More information: Steinberg