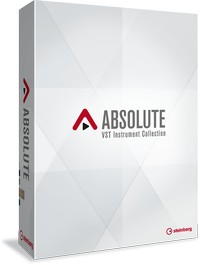 Steinberg has announced the release of Absolute, a VST instrument collection comprising the HALion Sonic workstation, the Hypnotic Dance, Triebwerk and Dark Planet instruments alongside the Retrologue virtual-analog and Padshop Pro granular synthesizers.
HALion Sonic combines a high-quality sample library with a powerful sampling and synthesis engine that unfolds infinite possibilities for sound generation. Featuring synthesizer programs and presets for contemporary productions, Hypnotic Dance, Triebwerk and Dark Planet complement HALion Sonic's library and as a completely new feature now also run independently as full blown instruments within VST and AU hosts. Retrologue is a virtual-analog synthesizer while Padshop Pro is Steinberg's latest achievement in bringing granular synthesis to the world of VST.

"Absolute is the epitome of what Steinberg offers regarding synthesized sounds. With the entire collection running on your computer, an infinite palette of sounds is at your fingertips," commented Matthias Quellmann, Steinberg's product marketing manager for VST instruments. "It's going to take a while for users to comprehend the sheer magnitude of it all," Quellmann added.
Absolute VST Instrument Collection features
6 high-quality VST instruments comprising thousands of presets:

HALion Sonic is Steinberg's premier VST workstation, featuring the latest sampling and synthesis technologies, a world-class library and an intelligent user interface that excels in the studio as well as on stage.
Padshop Pro introduces a new way of granular sound design. Get yourself ready for out-of-this-world atmospheres and far-out effects.
Zero Gravity is the exceptional expansion pack for Padshop Pro and comes with 250 new presets and a fully loaded new SoftGrain Wave ROM.
Retrologue offers old-school analog synth sounds and biting sonic blocks and is ideal for creating fat and funky lead and bass sounds.
Hypnotic Dance is a treasure trove for electronic music producers with solid bass lines, cutting leads and beautifully textured pads.
Triebwerk is the go-to choice for club-worthy dance sounds including soaring synths, four-to-the-floor drum kits and queasy vocals.
Dark Planet is best suited for cinematic scores and musical excursions, comprising creepy sounds, shattering loops and eerie instruments.

VST 3, VST 2 and AU host compatibility.
Cross-platform 32/64-bit for Windows and Mac OS X Intel.
Steinberg USB-eLicenser included.
The Absolute VST instrument collection is available to purchase for 299 EUR, including German VAT.
Steinberg is offering users of Cubase 6.5 and Cubase Artist 6.5 a download version of the Absolute VST instrument collection. This version includes the upgrade to Padshop Pro, not the Padshop Pro full version, excludes Retrologue and the USB-eLicenser, and requires the HALion Sonic Trial DVDs included in the Cubase 6.5 and Cubase Artist 6.5 retail boxes. This offer is available exclusively through the Steinberg Online Shop for 249 EUR, including German VAT.
More information: Steinberg / Absolute VST instrument collection