Steinberg has announced the release both of a new version of its professional music notation application, Dorico, and of a new entry-level music notation application, Dorico Elements.
With the introduction of Dorico Elements, Dorico is now called Dorico Pro, to reflect its high-end capabilities.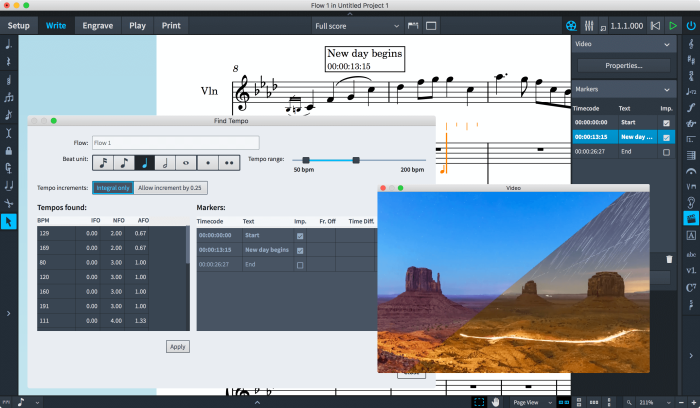 Dorico Pro 2
Dorico Pro 2 adds significant new functionality across the whole application, with a particular focus on supporting media musicians working in film, TV, video games and other production environments. First, Dorico Pro 2 now allows composing to picture, with features to attach a video to the project, add markers for specific events in the action, and tools to help find the best tempo for the material. Second, new tools for automation in Play mode have been added, allowing users to make fine adjustments to tempo and MIDI controllers using familiar graphical tools.
Scores and parts can be given the Hollywood look with new options for time signatures, allowing them to be shown centered on every instrument bracket or drawn above particular instruments, drawing attention to them — essential in action-packed music with many meter changes.
Support for notations widely used in commercial and jazz music has also been expanded in Dorico Pro 2, with new support for rhythmic slashes and bar repeats, widely used in music that includes repeated patterns, and which help players keep their place and understand the structure of the music more quickly.
New time-saving tools for arrangers and orchestrators have also been added, including multi-paste for copied material to be pasted to multiple staves in a single operation, new explode and reduce tools for repurposing material for more or fewer instruments, and powerful new tools to scale existing notes into tuplets.
Dorico Elements 2
Dorico Elements is the new entry-level member of the Dorico product family. Boasting many of the powerful and time-saving features of Dorico Pro, Dorico Elements is the perfect starting point for composers, arrangers, and students. With a simple user interface that is quick to master, Dorico Elements provides fluid input and editing, beautiful graphical notation, and great-sounding playback, delivering results that maintain the overall standard for which Dorico is renowned.
Dorico Elements is ideal for home use or use by students in secondary education. Allowing the creation of publication-quality music for ensembles of up to 12 players, with the same automatic music layout and engraving of Dorico Pro, Dorico Elements is the ideal choice for musicians starting out in composition and arranging.
"With several new features aimed at commercial music, we are excited about accelerating the use of Dorico Pro 2 in composition, arranging and orchestration work for film, TV and games," commented Daniel Spreadbury, product marketing manager for Dorico, "and the introduction of Dorico Elements provides an inexpensive way for the next generation of composers and arrangers to experience these features in a simpler, more streamlined package."
New features in Dorico Pro 2
Play video in sync with your project, add markers, and manipulate tempo to compose to picture.
Edit tempo and MIDI controllers in Play mode with familiar graphical automation control.
Add ossias, handle complex divisi writing for string sections, and change the number of staves used by an instrument with smart new staff management tools.
Quickly write rhythmic slashes and bar repeats for rhythm section parts.
Hollywood-style large time signatures draw attention to meter changes in action-packed film score cues.
Quickly select, insert, and delete material with the new System Track.
Powerful new tools for arrangers, including multi-paste, explode, reduce, and tools to scale existing notes into tuplets of any ratio.
Playback of repeat structures, including repeat barlines and repeat endings.
New popover for adding tremolos and repeat endings.
Edit the appearance of playing techniques and notehead sets, and define new playback behaviors for playing techniques in VST Expression Maps.
Dorico Pro 2 is available for a suggested retail price of 579 EUR including German VAT. Special educational pricing is available, as well as crossgrade pricing for users of Sibelius and Finale.
An update for existing Dorico 1.x customers is exclusively available through the Steinberg Online Shop. Customers who have activated Dorico 1 since May 2nd, 2018, are eligible for a free, downloadable grace period update to the latest version.
Dorico Elements 2 has a suggested retail price of 99.99 EUR, including German VAT. Special educational pricing is available.
More information: Dorico