Steinberg has launched dspMixFx, an app that gives iPad access to DSP features of its UR824, UR28M and UR44, and released updated firmware/software for these audio interfaces.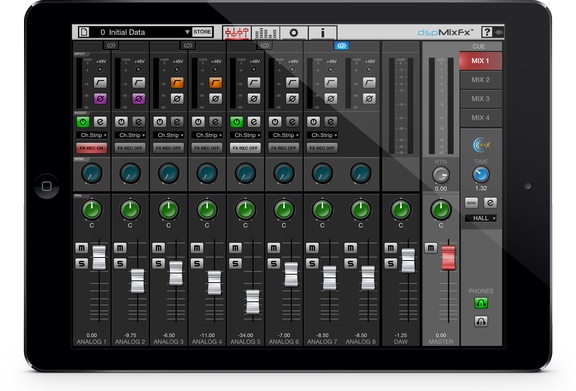 dspMixFx allows users to control the many digital signal processing (DSP) features available on the UR824, UR28M and UR44 audio interfaces in order to create latency-free monitor mixes with the readily available DSP effects through the iPad.

"Most musicians have experienced a poor monitor mix at some time or another. And this results in a poor performance. With dspMixFx, simply hook up your iPad to the interface, set up the perfect mix and get the best out of each and every performer during the recording sessions," says Stefan Schreiber, product marketing manager at Steinberg.

dspMixFx harnesses the power of Yamaha's SSP2 DSP chip built into the UR interfaces, making the available DSP features easily accessible through the iPad. The iOS app provides a mixer for the input signals and controls the acclaimed REV-X reverb, the Sweet Spot Morphing Channel Strip with compressor and three-band parametric EQ as well as the four Guitar Amp Classics amp emulations at zero latency.

dspMixFx is compatible with other iOS audio apps, offering full operation when using third-party apps with the DSP-powered interfaces of Steinberg's UR range.

The firmware/software update version 2.1 ensures full compatibility of the UR824, UR28M and UR44 with the dspMixFx app as well as providing automatic detection of the connected iPad or computer when in class compliant mode.
dspMixFx is a free app available through the App Store. The firmware and Tools software update version 2.1 is freely available as download from the Steinberg website.