Steinberg has announced the release of Future Past Perfect, a new expansion pack in the range of VST Sound Instrument Sets for Groove Agent 4 and Groove Agent SE 4.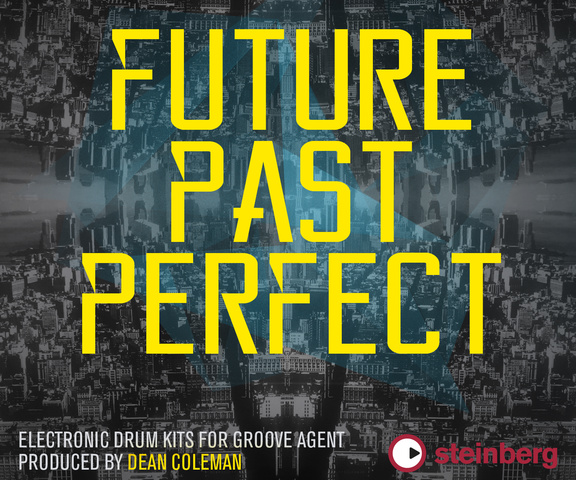 Designed by renowned producer, Dean Coleman, Future Past Perfect spans 33 electronic drum kits with over 500 electronic sounds, including kicks, snares, hi-hat, percussion, stabs and effects, plus hundreds of groove patterns. Its production kits are ideal for the many subgenres of house music, and perfectly complements the libraries of Groove Agent 4 and Groove Agent SE 4.

Groove Agent 4 is a comprehensive drum workstation that includes three different drum modules for different styles. These modules or Agents are combinable with each other, allowing users to create unique drum sets. Groove Agent 4 also features a massive sound library of over 22,000 samples, more than 3,800 patterns and an array of specialist editing tools. Groove Agent SE 4 is already included in Cubase Pro 8, Cubase Artist 8, Cubase 7.5, Cubase Artist 7.5 and Nuendo 6.5 with NEK.

Dean Coleman is a producer, DJ and composer who has scored several internationally acknowledged films, while also boasting remixes for a long list of prestigious artists. Meanwhile Coleman has added to his professional portfolio by releasing premium sound libraries and sound-design tools.

"Future Past Perfect intertwines the classic sounds of the past with sonic hints of the future, landing on the perfect blend for the present," said Dean Coleman.

Matthias Quellmann, product marketing manager at Steinberg added: "Good house beats are not easy to come by, and we had been looking for a long time for the right contributor before we met Dean. I can only recommend giving the demo track a listen: one can tell right away that Dean's put so much effort into the samples and patterns that comprise Future Past Perfect. He's really done a wonderful job of it!"
Future Past Perfect is available for purchase for 39.99 EUR, including German VAT.
More information: Steinberg / Future Past Perfect