After releasing the orchestral library Iconica Sections & Players in June, Steinberg has now announced the immediate availability of two further Iconica family members.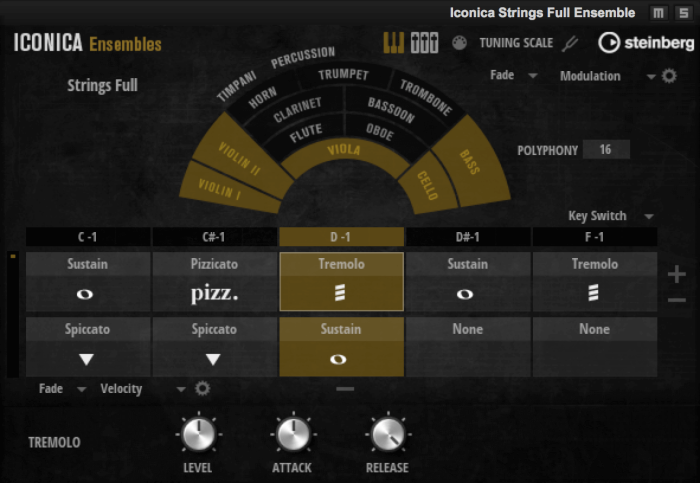 Iconica Ensembles is an easily accessible library, providing perfectly matched ensembles of strings, brass, woodwinds and percussion alongside more than 40 different presets. This makes Iconica Ensembles the ideal tool for composers and producers to deliver beautiful arrangements without delving into details.
Iconica Opus combines Iconica Sections & Players and Iconica Ensembles into a powerful tool for composers and producers. With over 190 GB of content, comprising strings, brass, woodwinds, percussion and a harp alongside ensembles and presets, as well as a huge variety of expressions and articulations, Iconica Opus incorporates the entire instrumental spectrum of a symphonic orchestra.
The Iconica libraries are developed for HALion. Both Note Expression and Expression Maps are capabilities that VST 3 has to offer, allowing users to create unique textures with the played orchestral instruments.
Both Ensembles and Sections & Players run on the included HALion Sonic SE 3 player, while also being compatible with HALion 6 and HALion Sonic 3. They can be used as stand-alone applications or as plug-ins in every DAW supporting VST 3, AAX or AU.
Florian Haack, senior marketing manager at Steinberg, commented:
"Iconica Ensembles is a great addition to Iconica Sections & Players. Users can now easily outline everything with Iconica Ensembles and delve into the details afterward. Since we decided to bundle both libraries with Iconica Opus. Iconica now brings everything to the table to create iconic-sounding masterpieces."
Iconica Ensembles features
Over 40 presets and 45 GB of carefully handcrafted orchestral ensembles for different styles of music.
Produces great results in next to no time.
Makes composition fast and agile, with the great sound which defines Iconica.
Designed for modern productions and projects which have to be completed under heavy time pressure.
Every sample and preset recorded in stunning sound quality.
All presets feature different expressions for the greatest realism.
Correct orchestral positioning for every sound.
HALion library compatible with VST 3, AAX, VST 2 (Windows only) and AU.
Free HALion Sonic SE 3 included.
Iconica Ensembles is available for a suggested retail price of 299 EUR, with an introductory price of 199 EUR until October 11th, 2018. Iconica Opus has a suggested retail price of 999 EUR, with an intro price of 848 EUR. Prices including German VAT.
More information: Steinberg