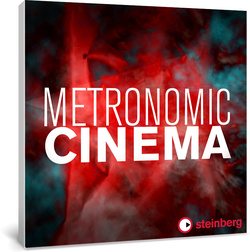 Steinberg has announced the release of Metronomic Cinema, the second expansion pack for the virtual drum workstation Groove Agent 4, and its condensed version Groove Agent SE 4, featuring acoustic, electronic and percussive drum kits specifically designed for movie scores.
Metronomic Cinema comprises thirty first-class kits and over 750 samples that are entirely new to the world of Groove Agent. Adding both recorded acoustic drums and the latest electronic sounds to one's library provides a wealth of percussive and tonal elements covering ambient, heavy and epic styles.

Product marketing manager Matthias Quellmann commented: "This is a nod to the composers who use Groove Agent for big-picture scoring and enjoy unique percussive sounds to round out their instrumental palette."
Metronomic Cinema features
30 production kits across dozens of presets, inspired by contemporary motion picture soundtracks.
Hundreds of acoustic and electronic sounds covering ambient, heavy and epic styles.
Exclusive, meticulously recorded acoustic samples including drum kits, percussion, FX and melodic sounds.
Metronomic Cinema for Groove Agent 4 and Groove Agent SE 4 is available for purchase for 39.99 EUR, including German VAT.
More information: Steinberg / Metronomic Cinema