Steinberg has announced the release of The Songwriter's, a new expansion pack for Groove Agent 4 and Groove Agent SE 4.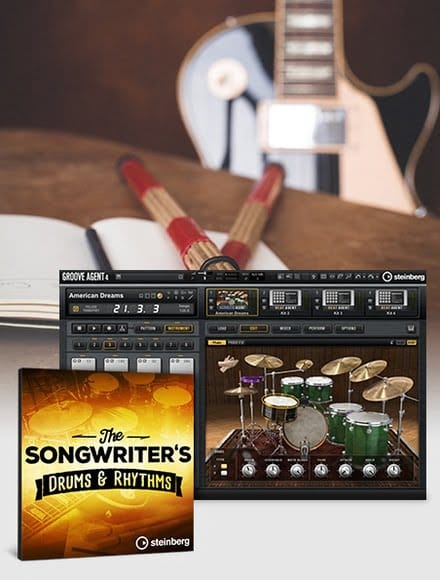 The Songwriter's features a complete new acoustic drum kit played with sticks and rods, and offers styles that will find large appeal with singer-songwriters and musicians of folk, country and indie music.

The acoustic drum kit featured in The Songwriter's adds to the sound library of the Acoustic Agent included in Steinberg's complete drum workstation, Groove Agent 4, and the Groove Agent SE 4 instrument plug-in available in latest versions of Cubase. With over 4 GB of sample content, the drum samples are 24-bit resolution recordings, spanning up to 16 levels of velocity and six round robins. The 20 included Styles consist of intros, main grooves, fills and endings, which can seamlessly be varied in complexity and intensity.

Matthias Quellmann, senior marketing manager at Steinberg, commented: "The Songwriter's is a great-sounding drum kit that comes with the perfect rhythms to craft your songs."
The Songwriter's features
Acoustic drum kit played with sticks and hot rods.
24-bit recordings with up to 16 velocities and 6 round robins.
20 Styles for folk, country, soft rock and indie pop.
Each Style includes main parts, intros, endings and fills.
An inexhaustible resource for creating backing tracks, inspiring new compositions and improvisation sessions.
The Songwriter's is available for purchase for for 59.99 EUR, including German VAT.
More information: Steinberg / The Songwriter's