Steinberg has announced the release of Sounds of Soul, a new soundset which adds to the sound library of Retrologue with classic synthesizer sounds influenced by the soul, disco, funk and R'n'B genres between the 1970s and 2000s.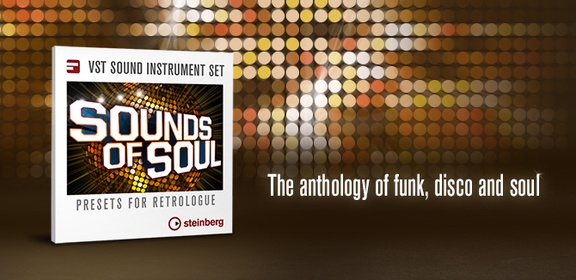 "After Vintage Classics for Retrologue, we bring to you Sounds of Soul, a smorgasbord of landmark synth sounds you're very likely to have heard in more than one past production," commented Matthias Quellmann, product marketing manager at Steinberg.

The Sounds of Soul VST Sound Instrument Set boasts over 400 presets, celebrating legendary synthesizer sounds of the soul, disco and funk era as heard in the 1970s, R'n'B induced pop from the 1980s and the hip-hop styles of the 1990s and 2000s.

Created by Dave Polich, sound designer and programmer for many high-profile artists and major manufacturers, Sounds of Soul provides a beautiful blend of synthesizer sounds highly revered by musicians of all stripes.
Sounds of Soul is available to purchase for 29.99 EUR including German VAT.
More information: Steinberg / Sounds of Soul