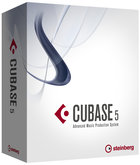 Steinberg has released version 5.0.1 of Cubase (and Cubase Studio), the digital audio workstation for Windows and Mac.
The first update of Cubase 5, version 5.0.1, is now available as download from our website. It incorporates a wealth of feature improvements and several fixes. Here are just a few of the feature enhancements Cubase 5.0.1 has to offer.
Changes in Cubase (Studio) v5.0.1
Plug-in scanning at program start-up has been optimized. In the Plug-in Information window, a button "Update Plug-in Information" has been added which enables scans through all installed plug-ins and adds additional information about plug-in properties to the list.
In the Setup window of VST Expression, it is now possible to define up to two individual MIDI Control Change messages for a Sound Slot in the Output Mapping area. Each sound slot can be associated with a color. When working in the MIDI editors, such as the Key Editor, you can use the Color Scheme Selector in the Toolbar to colorize note events by Sound Slots.
In LoopMash, saving or deleting a scene can be aborted by clicking the empty space next to the Scene Pads. An "Empty" preset has been added to easily clear an entire LoopMash instance. LoopMash now also supports the AI Knob of the Steinberg CC121 controller.
Supports for the AI Knob of the Steinberg CC121 controller has also been added to Groove Agent ONE. The pads C1 – B4 also include additional automation parameters. The central display on the Play page now displays a polyphony counter.
The ASIO load of REVerence has been drastically decreased and the plug-in latency has been reduced from 2,048 to 256 samples. Please note that CPU performance depends on the length of the impulse response and the number of channels used, which should be considered when setting the ASIO buffer size.
Check the version history (.pdf) for details. The updates can be downloaded here.
Visit Steinberg for more information.