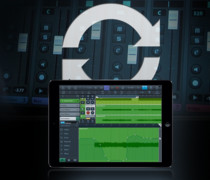 Steinberg has announced version 1.8.1 of Cubasis for iOS, the streamlined, multitouch sequencer for the iPad.
The 1.8.1 update not only solves several issues but also provides some small yet nice user-requested features. A noise gate plug-in, bluetooth audio support as well as a handful of usability improvements make Cubasis even more fun to use.
Changes in Cubasis v1.8.1
New Features:

Bluetooth, AirPlay and HDMI audio out support.
New noise gate effect.
Extended transport controls in the audio editor.

Improvements:

Setup redesign.
Selecting a channel in the mixer automatically scrolls its corresponding track into the visible area above the mixer.
After splitting an event only the newer part becomes selected.
Selecting a track is now also possible by touching its adjacent area in the arrange window.
When recording with the on-board keyboard the corresponding MIDI track gets autoscrolled into the visible area above the keyboard.
Double-tap resets the values of the transpose popup.
Mixer view gets updated if a track has been selected and its corresponding channel in the mixer is invisible.
Behaviour of MIDI and automation editor tools has been improved.
Tempo popup button behaviour has been improved.

Fixes:

Pasting MIDI events in the MIDI editor is no longer limited to one-time use.
Volume and pan values of a frozen track that contain automation data will now be reset.
Fixes a problem where the recording of chord pads was limited to single notes (instead of chords).
Triggering MIDI notes in cycle mode via external keyboard no longer leads to a note off command at the end of the cycle.
Fixes an issue where autoscroll was unnecessarily triggered if an audio event handle was moved.
Snap and quantization grid settings are now saved with the project.
Freezing a track during playback at high CPU load no longer renders Cubasis unreliable.
Setup view will now be properly closed when switching to another view.
Audio editor playback now stops exactly at the right locator.
Fixes a rare problem where certain MIDI files (Format 1) were imported as single tracks.
MIDI Inputs assignment with external apps now works as expected.
Punch in recording now works as expected.
Steinberg also released the new 1.6 version of the Cubasis Project Importer extension for Cubase.
More information: Steinberg / Cubasis for iOS