Steinberg has announced three iOS-related releases, comprising an update to its Cubasis multitouch sequencer for the iPad, iOS support for the VST 3.6 SDK, and the free Nanologue synthesizer for iPad.
Cubasis 1.7 is a free update now adding Inter-App Audio capability for routing and controlling audio between iOS apps in a single project. The newly available Software Development Kit (SDK) for version 3.6 of Steinberg's Virtual Studio Technology (VST) allows deployment of iOS apps with Inter-App Audio and introduces many new enhancements. Nanologue is Steinberg's latest iOS app for the iPad: a virtual-analog synthesizer for monophonic leads and basses.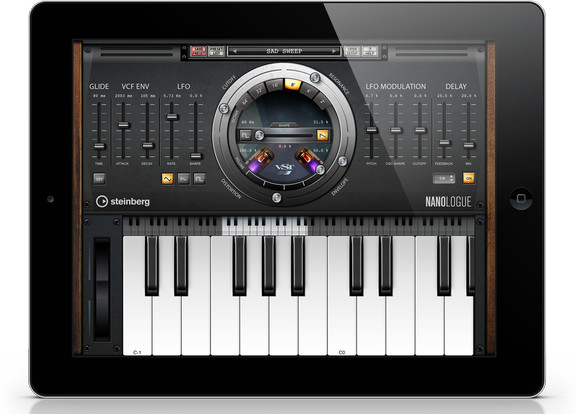 Carlos Mendoza Rohde, product marketing manager at Steinberg, comments: "With Inter-App Audio introduced to iOS 7, we've been keen to implement this feature into Cubasis. While using the momentum, we added iOS support to our VST SDK and are providing an iPad synthesizer based on this technology for free!"

Adding full Inter-App Audio implementation to Cubasis 1.7 allows iOS apps with Inter-App Audio capability to be used as instruments on both audio and MIDI tracks. It is also possible to use compatible apps as insert or send effects within the Cubasis iOS digital audio workstation for the iPad.

Alongside the VST 2.4, VST 3 and Audio Unit formats, the new SDK for VST 3.6 now allows developers to compile the code for iOS compatibility with Inter-App Audio support, turning the VST development kit into a platform capable of outputting four acclaimed formats conveniently from one technology source. Other new features to the latest SDK release include enhancements to the VST 2 and Audio Unit wrappers, iOS support for the new 4.2 version of VSTGUI, Steinberg's cross-platform C++ library for developing UI-based plug-ins, and a new validation tool for VST 3 host applications.

Based on this new SDK release, Nanologue is a virtual-analog monophonic synthesizer that can be used on the iPad as stand-alone app or together with a iOS host application via Inter-App Audio functionality, such as with the latest 1.7 update to Cubasis. Including 50 factory presets, Nanologue boasts a cross-modulation oscillator with two waveforms, glide, a VCF envelope, LFO, delay and a filter section with cutoff, resonance and distortion. User presets can be exported to the Retrologue VST instrument, included in Cubase 7, Cubase Artist 7, Cubase 6.5 and Cubase Artist 6.5.
Cubasis 1.7 is a free update available through the App Store on iTunes. The SDK for VST 3.6 is freely available from the Steinberg website. Nanologue is available as free App Store download on iTunes.
More information: Steinberg