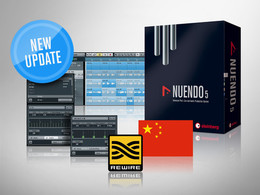 Steinberg has updated its post-production digital audio workstation Nuendo to version 5.5.3.
Steinberg is elated to release Nuendo 5.5.3, the latest update to its advanced post-production system. The updated version features an enhanced lane comping functionality, a more intuitive approach to multitrack quantizing, ReWire 64-bit support and Chinese language support.

The comprehensive update is now available free of charge from the Steinberg website. For detailed information on all fixes and enhancements, please check the corresponding version history on the download page.
New in Nuendo v5.5.3
Lane Comping improvements – Nuendo 5.5's comprehensive lane comping system has been improved once again. Tailored closely to the requests of our professional users in audio and post-production, the comping workflow has been streamlined by a dedicated Comp tool
Multitrack warp quantizing – Nuendo 5.5.3 fuses the hitpoint and AudioWarp system and embeds warp quantizing directly into the dedicated quantize panel. By creating warp markers straight from hitpoints, single audio loops or the entire arrangement can be non-destructively quantized with a single mouse click.
ReWire 64bit support – Nuendo 5.5.3 now connects your favorite ReWire client applications in a pure 64-bit environment under Windows and Mac OS X!
Ni hao ma? – Nuendo 5.5.3 is the first Nuendo version ever to provide the entire user interface in simplified Chinese. We welcome our Chinese-speaking friends around the world!
Nuendo for Windows and Mac is available to purchase for 1,799 EUR.