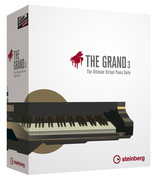 Steinberg has released version 3.1 of The Grand 3, a virtual piano suite for Windows and Mac.
Today, Steinberg releases a new update for the world's most authentic virtual piano suite, The Grand 3. The brand-new 3.1 version adds 64-bit support for Mac platforms, as well as several workflow and performance improvements.
Changes in The Grand 3.1
64-bit support for Mac OS X platforms.
Significantly increased loading speed due to improved disk streaming.
It is now possible to work in the host application during the loading process.
The loading process can be canceled.
Fixed: With two TG3 user interfaces open, opening the progress bar brings the background plug-in to the front.
Fixed: No Cubase entry in task windows switcher while TG3 has an open modal dialog.
Fixed: The EQ curve does not clip correctly.
Fixed: Make the loading dialog non-modal in order to benefit from the new threaded loading mechanism.
Fixed: Recalling of an instrument preset will not always restore the convolution reverb setting.
Fixed: TG3 Equalizer graphical value false.
Fixed: TG3 ambience and 4-channel output problem.
Fixed: Opening TG3.1 in Live with no E-licenser plugged can cause a crash.
The Grand 3.1 is now available as a free download for existing users from the Steinberg website.
More information: Steinberg / The Grand 3