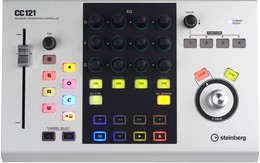 Steinberg has released version 1.6.0 of the software tools for CC121, an advanced integration controller.
Engineered specifically for the thousands of production environments using Cubase worldwide, CC121 interfaces the creativity of musicians and producers with the functional complexity of the world's most popular music production system.

CC121 provides totally integrated tactile control of all parameters within Cubase, with a unique design that keeps you focused on your project.
Changes in Steinberg CC121 Extension v1.6.0
Added the new functions below. Cubase version 5.1.1 or later is necessary for the new functions. For details, refer to the included documentation, CC121 V1.6 New Functions.

EQ gain inverse
Jog/Shuttle function with scrubbing
Switching the function in the Function section

Solved some other minor problems.
The Tools for CC121 version 1.6.0 update for Windows and Mac is now available for free download.