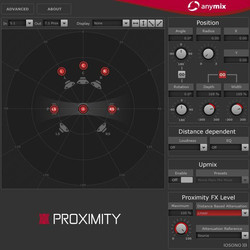 Steinberg has released version 6.5.35 of Nuendo, the audio post-production software.
Besides extensive product maintenance for the AAF import and export filter as well as new AAF functionality, this update provides full support for PROXIMITY, the upcoming game audio surround technology by IOSONO/Barco.

PROXIMITY game audio technology

IOSONO PROXIMITY is a new audio technology standard that "raises the gaming experience to the next level of realism". PROXIMITY ensures a highly accurate localization of game sounds by bringing sound effects and dialog into the inner circle of a surround field. Sounds come closer with depth, extending into the room from the speakers all the way to the listener's position. For sound designers, PROXIMITY is a powerful new tool in their content creation toolbox, realizing great effects with only little effort. Through the integration into Nuendo, PROXIMITY technology seamlessly slips into existing workflows for game sound design.

Fully integrated with Nuendo 6.5.35

Nuendo 6.5.35 provides full support for the PROXIMITY technology by updating the integrated surround panner Anymix Pro to the Anymix Pro PROXIMITY version. As soon as Anymix Pro is used with a PROXIMITY bus inside Nuendo, it turns into a command center for PROXIMITY game sound production by offering PROXIMITY effects and control parameters.
More information: Steinberg