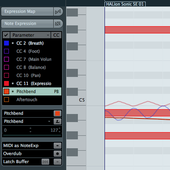 Steinberg has announced VST Expression 2, cutting-edge Cubase 6 tools which revolutionize workflow for composing with VST and MIDI.
Boasting many new features and enhanced functionality, Cubase 6 has already drawn considerable attention since yesterday's announcement at the NAMM show. Cubase 6 is the latest incarnation of Steinberg's award-winning advanced music production system.

Debuting in the preceding Cubase version, the acclaimed VST Expression has evolved to a comprehensive, effective MIDI orchestration tool set, now available in Cubase 6.

Exclusively available in Cubase 6, Note Expression provides a unique way of assigning, creating and editing multiple controller values directly on a single note — ideal for creating demanding orchestral arrangements as well as exceptional electronic music textures and sound effects. Combining the most advanced Virtual Studio Technology with the MIDI paradigm allows each note event to contain multiple controller data, making polyphonically sounding notes to be dynamically controlled an immediate reality. VST Expression 2 also features an extended Articulations Lane in the Key Editor to include dynamics as well. This means that dynamic symbols which were formerly only applicable to the Score Editor are also displayed in the Key Editor. Rounding out this tool set is the VST Expression Maps feature which has been enhanced to allow VST 3.5 compatible instruments to automatically receive the articulation setup of individual instrument sounds to a single VST Expression Map.

"VST Expression 2 is absolutely mind blowing — you really have to see it to grasp the full magnitude of what we have done here. The synergy effects of our in-house developed instruments and VST 3.5 technology allowed us to usher in the post MIDI-era," explains Helge Vogt, Steinberg's marketing manager for Cubase.