The HALion Partner Program has newly been initiated by Steinberg to encourage providers to offer first-rate content for its virtual sampling and sound design system.
The content libraries are supplied with Steinberg's free HALion Sonic SE 3 for pristine audio quality and compatibility with any DAW supporting VST, AAX or AU formats. Libraries belonging to the partner program are distributed through Steinberg's eCommerce channel.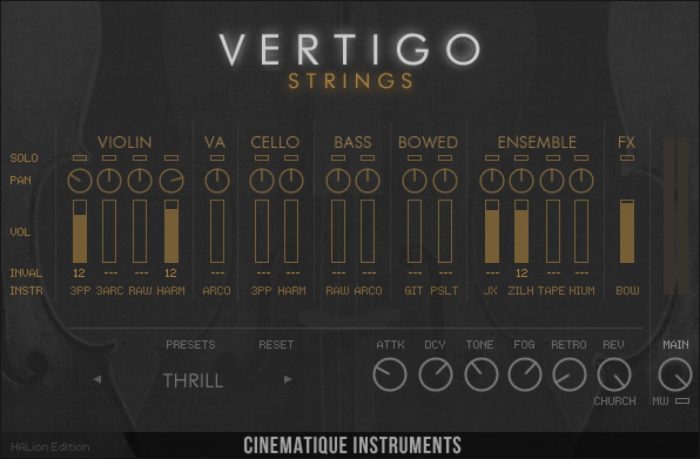 HALion: The creative platform
HALion combines the latest sampling and synthesis technology with streamlined content creation tools to allow sound designers to build complex sample libraries, create exciting new virtual synthesizers and design unique sounds — all within one powerful instrument.
Steinberg's Senior Marketing Manager, Florian Haack, commented:
"We are really happy to welcome Cinematique Instruments to our HALion Partner Program. Their sample libraries have a very unique and interesting sound — and a very intuitive user interface. I am sure our customers will love these new instruments for HALion."
New instruments by Cinematique Instruments
The first member of the HALion Partner Program, Cinematique Instruments (founded in 2009), offering an unusual selection of instruments, a selection of which is now offered through Steinberg: Vertigo Strings is a string library encompassing 16 meticulously selected sounds and instruments; Marimba was recorded together with one of Australia's finest percussionists, Michael Askill; and Hammered Dulcimer was recorded with different mallets and sticks. To round out this great assortment of new HALion libraries, Guitar Harmonics Essential is being made available for free, focusing on flageolet notes of the guitar.
Joachim Dürbeck for Cinematique Instruments said:
"Treading new paths always opens up new possibilities. It was an unknown and exciting journey to put our instruments on a new platform — a platform that gave us new possibilities and options. It was great fun, and in the end, we are thrilled how well and inspiring our new HALion instruments work."
Vertigo Strings, Marimba and Hammered Dulcimer by Cinematique Instruments are now available through the Steinberg Online Shop, priced at 120 EUR, 55 EUR and 42 EUR, respectively. Prices including German VAT.
More information: Steinberg