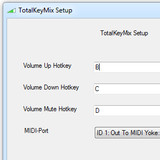 Stephan Römer has released TotalKeyMix, a volume control for RME's TotalMix.
This free application enables you to control the volume of your RME soundcard with the multimedia keys of your keyboard or even a device like the Griffin PowerMate.

You might have noticed that the volume control of the windows mixer has no impact on the TotalMix interface. But the fact, that TotalMix can be controlled over MIDI made me think of a way how to control it anyway. Some of you maybe know the powerful scripting application AutoHotkey. You can do pretty nifty things with it and that's exactly what I used for my approach. AutoHotkey is able to access the MIDI API of Windows and send MIDI controller data via hotkeys. The only thing you need to get it working is a virtual MIDI device which AutoHotkey can use to transfer the MIDI data. You can use the free MIDI Yoke for that purpose (it even works on Windows 7 x64).
TotalKeyMix features
GUI.
Volume and mute functionality.
Free assignable hotkeys.
Settings stored in a config file.
TotalKeyMix is available to download as a freeware application for Windows PC.
More information: Stephan Römer