Stephan Vankov has launched Pulse, a surface controller system comprising a piezo mic and a software interface allowing you to play virtual instruments by finger tapping.
At the core of all music creation lies a pulse. In an age of gear-overload, many of us have forgotten the most effective and intuitive pulse generator – a finger tap.

The Pulse Controller is a hardware / software solution that liberates computer-based musicians and performers from conventional input devices by allowing a surface – i.e. desk, laptop, objects and more – to become a playable MIDI controller. An included piezo microphone coupled with a simple yet powerful software interface converts acoustic impulses into MIDI Note messages for playing your software instruments in an intuitive, responsive and connected manner.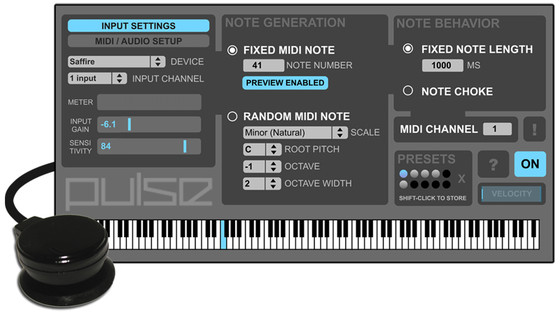 Pulse Controller features
Piezo microphone and powerful software interface.
Attaches to any surface via integrated suction cup (velcro strips also provided).
Connects to external audio device or built-in audio inputs (1/4″ and 1/8″).
Velocity-sensitive and highly responsive.
Low-latency performance.
Compatible with all software that accepts MIDI Note messages (Cubase, Ableton Live, Pro Tools, VST/AU plug-ins, etc).
Generate fixed note or random notes in a selected scale, with control of octave, octave width, root pitch and 21 Scales.
Fixed note length and note choke modes.
Store and recall presets.
Keyboard shortcuts for quick access to presets and important controls.
Mac OS 10.5, 10.6, 10.7 compatible (Windows / Ableton Live users, please contact us about M4L version).
The Pulse Surface Controller System is currently available for Intel Mac only, priced at $59 USD (+ $5 USD shipping within USA). A 1/4″ to 1/8″ audio input adapter is available for an additional $5 USD.
Note that shipping is currently limited to US orders. International shipping will be available soon.
More information: Pulse Surface Controller System