STL Tones and Ignite Amps have announced version 2.0.1 of the Emissary plugin bundle, which includes Emissary 2.0, NadIR 2.0 and 6 cabinet IRs from Kick Recording Studio. Both plugins now support AAX for Pro Tools.

The Emissary a digital emulation of a custom dual channel guitar tube amplifier developed to accurately model its real hardware counterpart, built for Ryan Huthnance by Ignite Amps.
Featuring a versatile clean channel that ranges from pristine cleans to slightly overdriven tones. A brutal lead channel designed for serious bone-crushing distortions. This module offers a very wide tonal palette for not only the modern metal musician, but a wider variety of genres.

Every single component on the signal path of the circuit of the physical Emissary tube amplifier has been taken into account and modelled in the best possible way to match the original sound, keeping an eye on CPU performance and real-time playability at the same time.
Changes in Emissary v2.0
Added AAX version.
Fixed OS X file browser crash on 32-bit versions.
Fixed CPU spike on load.
Fixed memory leak.
Fixed wrong grid stopper resistor value on Lead 1st stage.
Reduced load time.
The bundle also includes the NadIR dual Impulse Response (IR) convolver, designed to be used as a cabinet simulator for guitar and bass (pre)amplifiers (VST/AU or even hardware), with zero latency.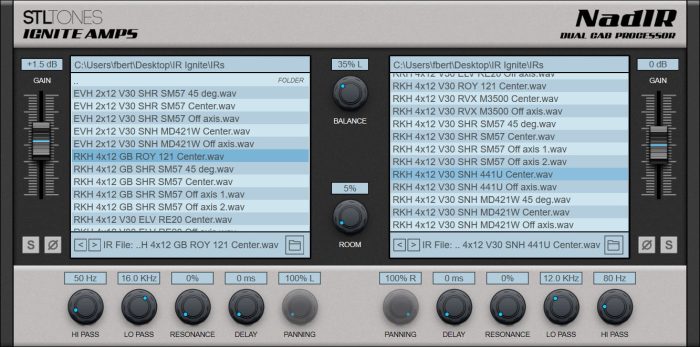 It has been designed to perform pristine quality convolution in real time, while being light on the CPU and easy to use, providing advanced built-in filters and delay controls to let guitarists and bassists shape their tone with ease, without the need to be professional audio engineers.

NadIR is meant to be used as a cabinet simulator for live playing and jamming, tracking or mixing inside hosts capable of VST/VST3 or AU Plug-Ins support.
Changes in NadIR v2.0
Added AAX version.
Fixed OS X file browser crash on 32-bit versions.
Fixed Resonance control bug on sampling rate change.
Fixed LPF control bug on high sampling rate projects.
Fixed IR resampling bug.
Fixed wrong IRs ordering on some OS X systems.
The Emissary plugin bundle is available as a free download. It includes VST/VST3, AU and AAX plugin formats.
More information: STL Tones