STL Tones has announced the official availability of the STL Tonality Howard Benson Guitar Plugin Suite, an all-in-one guitar plugin suite developed exclusively from Howard Benson and Mike Plotnikoff's signature guitar sounds.
Among the beta testers and early adopters of the first in the ongoing STL Tonality series of plugins have been leading guitarists and producers, who have each offered their praise of the new collection.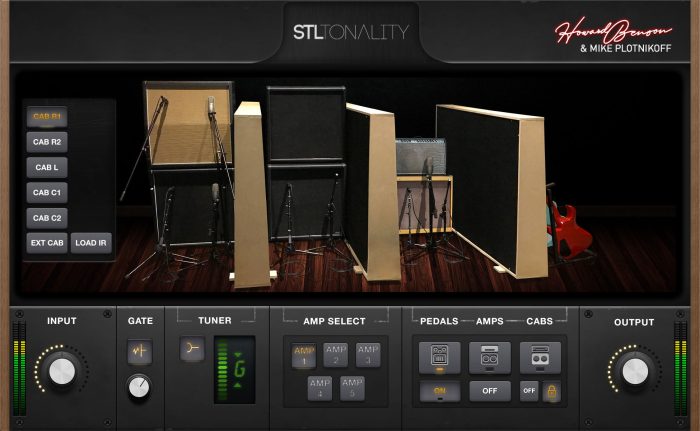 Guitarist Ola Englund [Feared, The Haunted, Six Feet Under] stated, "As soon as I opened the plug-in, and had the default preset going, I immediately started writing riffs! I was just blown away with how good the first sound actually sounded!"
The incredibly well crafted guitar tones from GRAMMY®-nominated producer and multi-instrumentalist Howard Benson, with the award-winning engineer/mixer Mike Plotnikoff, have powered a string of multi-platinum hits from Bon Jovi, Santana, My Chemical Romance, Daughtry, All-American Rejects and countless others. Now, these rich, distinctive tones have been meticulously captured from Benson and Plotnikoff's private amp collection in a VST/AU/AAX plug-in that gives guitar players a fully mixed, hit-ready guitar sound—including vintage overdrive, delay, and reverb effects.
STL chose not to compromise sound quality for variety. Instead, the suite dedicates all of its power to the five classic amps that form the core of Benson's collection, as well as the production duo's personal array of cabs, mics and speakers. The modeling algorithms work on a component level to prioritize the expressiveness of physical amps, and offer the smooth breakup from clean to distortion previously found only in the best tube amps.
Howard Benson believes that amp models need to be just as satisfying, and plug-and-play, as physical amps—and STL was the team that could accomplish this. As Benson states, "Mike and I first considered releasing a guitar plug-in when at one point we looked at all the hard drives and thought of all the guitar tones we had done over the years, and we thought 'wouldn't it be great to be able to pull up the sounds from these records?' We were able to find all the notes, and we kept extraordinary notes, from all of our records, and inside this plug-in are those sounds. Because it took us so long to get to those sounds, when you pull up the preset of that, its not just some preset, it is days and hours of work between Mike and me to arrive at that sound."
Tonality Howard Benson Guitar Plugin Suite features
5 amplifier modules meticulously developed from 5 of Benson's personal go-to amp's. Using the most advanced modelling algorithms, users can experience real-time simulations of the duo's actual amps.
An unrivalled stomp section that gives users access to 3 of Benson and Plotnikoff's personal Overdrive, Delay and Reverb Pedals.
A stunning cab room featuring Howard's personal collection of cab's and speakers, including a built in IR loader for external impulse responses.
32 presets of some of the duo's biggest album guitar tones, including 13 preset's from STL Tones.
The STL Tonality Howard Benson Guitar Plugin Suite is available for Windows and Mac (VST/VST3/AU/AAX), priced at $129.99 USD.
More information: STL Tones