Stone Voices has released version 2.0 of PolyGAS, a free polyphonic granular advanced synthesizer instrument for Windows.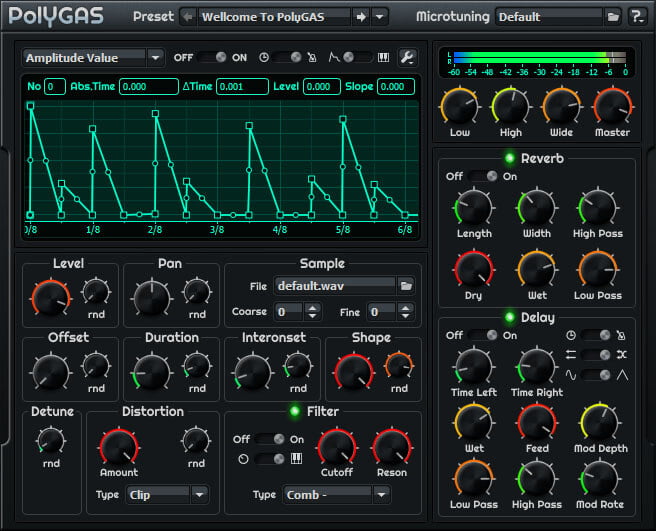 This synthesizer is based on a granular method of sound synthesis, allowing to use as much as possible possibilities of this method of synthesis.
PolyGAS features
32-part polyphony.
Support of files of samples in the WAV and AIFF formats, digit capacity of 8,16,24 and 32 bits / sample, mono / stereo. Files are supported only uncompressed by codecs.
The editor of the bending parameters of granular synthesis. 18 envelopes with the maximum quantity of nodes – 40 (in each envelope). Also there is a tab where it is possible to edit dependence of amplitude of the clicked key bending from a tonality. There is a possibility of synchronization of provisional regulations of nodes of envelopes with rate of composition in DAW.
Controlled randomization of parameters of granular synthesis.
Amplitude non-linear distortions, with a possibility of a type selection (a klipping, bit-kresher, etc.) – only 11 types.
The controlled universal filter allowing as manual installation of frequency of a cutoff (Cutoff) and a resonance (Reson), and by means of envelopes. There is a mode in case of which the frequency of a cutoff depends on a tonality of the clicked key. In the filter different types of filtering (LP, HP, BP, Comb and Allpass), only 11 types are used.
The line of a time delay with modulation realizing effects of Delay and Flanger. There is a possibility of time synchronization of a time delay with rate of composition in DAW, and also the set modes of back coupling (Normal/CrossFeed) and the wave form of a modulating signal LFO (Sine/Triangle).
The reverberator creating high-quality spatial reverberation on Ambient Reverb Stone Voices technology.
The master the section including regulators of low and high frequencies, and also width of a stereobasis and the overall level.
The microtone setup using files of the VAZ/Anamark tuning format format (extension of *.tun and *.scl).
Tools for operation with banks and presets.
Support of MIDI controllers.
Detailed help manual.
PolyGAS is a free download as a 32/64-bit VST plugin for Windows. Donations are appreciated.
Note that the uninstaller of the plugin currently seems to remove the folder the plugin is located in, so make sure to install in its own separate folder!
More information: Stone Voices / PolyGAS