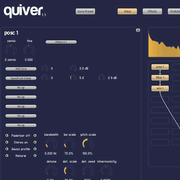 Straightarrow has updated its Quiver virtual modular synthesizer for Windows and Mac to version 1.1.
Quiver tries to be as transparent as possible, so you don't have to struggle to understand it. The modular interface makes it easy to see what's happening inside the synth, and the natural parameters make tweaking the sound a pleasure!
Changes in Quiver v1.1
Added new filter types.
Added dropdown to control length of envelopes.
Added ability to save and load individual module presets.
Enabled external modulation of legato mode. (Suggested by Punqtured)
Added non-hex values to MIDI assign dropdown.
Added mouse over descriptions to module connectors.
Renamed Wavetable Oscillator to Paderizer Oscillator.
Fixed problem with installer on windows, which would select wrong folder.
Fixed bug where visual feedback area would not correctly redraw. (Reported by Ben Paturzo)
Quiver for Windows and Mac (VST) is available to purchase for the introductory price of $45 USD (regular $69 USD).
More information: Quiver (website no longer available)