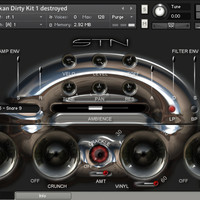 Stretch That Note has announced the DruMM Series 2, a collection of 6 drum modules for Native Instruments Kontakt.
The DruMM Layering concept is explored even further with Series 2 offering more 'mad scientist' frequency management, more scratches and vinyl samples, more orchestral percussion and, my favourite, more ethnic and tibal samples.

Each module has, as a demo, both video tutorials that show how to use DruMM plus displaying the content of each module, and audio examples kindly donated by artists and designers.
New in DruMM Series 2
Midi Note Select has now been incorporated for instant sample editing.
Filter Amt range has been modified to provide a smooth yet more extreme filter response.
All hi hats are now voice grouped to allow for dynamic playing.
The DruMM Series 2 modules are available to purchase for $8 USD each, or bundled for $40 USD. DruMM Series 1 has also been updated to include all changes made to Series 2. The update is available to current users of DruMM Series 1 at no charge.
More information: Stretch That Note