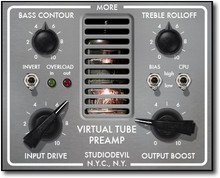 Studio Devil has announced the release of Virtual Tube Preamp, a tube preamp modeling effect plug-in for Windows and Mac.
This product marks a new advancement in non-linear circuit modeling. We have created new algorithms and techniques to improve the accuracy and authenticity of vacuum tube and analog circuit modeling that we like to call "second-generation" Studio Devil technology. By focusing on modeling a single-stage tube preamp, we have been able to place a larger amount of CPU resources on this one task. The result is the most advanced and highly accurate digital reproduction of tube preamp analog circuitry.
Virtual Tube Preamp features
Discrete Vacuum Tube Preamplifier Channel using the best vacuum tube modeling technology available to faithfully emulate the dynamic and expressive nature of real vacuum tube preamplifiers using Studio Devil's proprietary vacuum tube circuit modeling technologies.
Input Drive Control adjusts the strength of the signal feeding the input grid of the virtual tube preamplifier.
Output Level Control to adjust the output signal strength and to compensate for low drive settings.
Bass Contour Control to sweep the value of the cathode bypass capacitor which controls the low frequency and dynamic saturation responses of the preamp.
Treble Rolloff Control to tweak the value of intrinsic and parasitic capacitances in the simulated vacuum tube preamp, giving control over the natural warmth and softness associated with real vacuum tube preamps.
Bias Switch to select from two preset tube bias levels which vary the interaction of gain, asymmetrical drive, and dynamics of the preamplifier.
Invert Switch permits controlling the phase of the preamplifier and the polarity of the class-A asymmetry.
CPU Switch adjusts the modeling algorithm to balance the tradeoff between accuracy and CPU load allowing multiple instances to run on even slower workstations.
Overload LEDS assist in setting healthy levels by indicating when the input signal is overdriving the tube preamp and when the output level clips.
The Virtual Tube Preamp is available for the introductory price of $99 USD through December 31st, 2012 (regular $129 USD). Existing Studio Devil users can get the plug-in for $79 USD.
More information: Studio Devil / Virtual Tube Preamp