Sub51 has launched a new Kontakt instrument that blends the origins of electro with 21st century drum sounds. Mechanic is designed to produce rhythmic loops that combine stunning clarity with a contemporary feel, all controlled via an intuitive, user-friendly interface.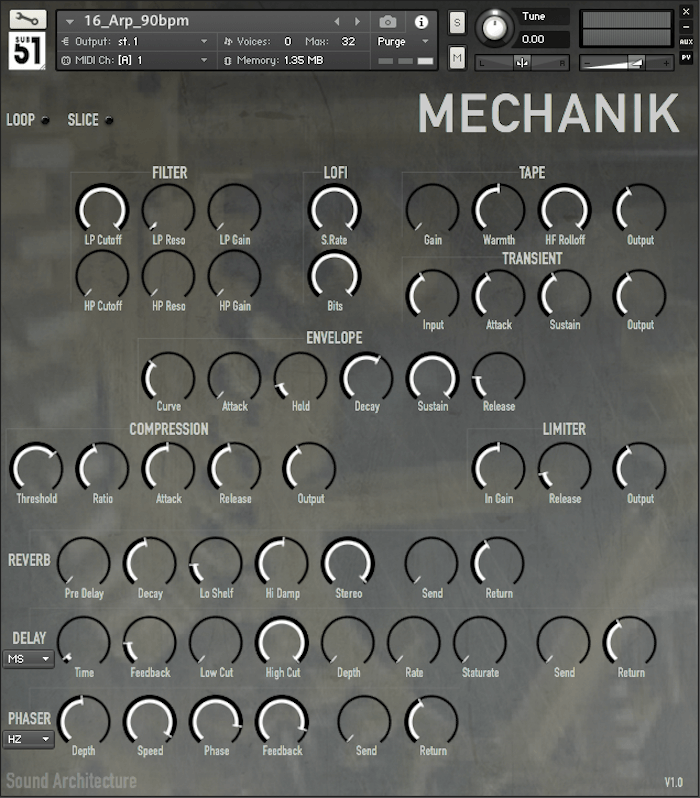 Formatted for use with NI Kontakt 6.2.2, Mechanic comes with 100 tempo sync'd loops which include sliced/mapped versions of each loop ready to slot into any music project. With influences such as Kraftwerk's Trans-Europe Express, Ibiza's ambient house and the intricacies of Daft Punk this sample library will ignite your creativity and add texture to your drum and percussive mixes.

The straightforward Kontakt interface provides users with the option to add dynamics such as HPF, LPF, LOFI, Tape Saturation, Transient, Envelope, Compression, Limiter as well as an effects section including Reverb, Tempo sync delay and phase.

Mechanic's sample loops are derived from an eclectic mix of acoustic and electronic sources employing multiple layers with appropriately creative processing such as Filter-shaping, pitch-shifting, rhythmic panning and a subtle blend of smooth reverbs and textured delays. Sample loops can be used just as they come or can easily be chopped and truncated to create completely new loops.

Pre-defined host and MIDI automation parameters have been pre-assigned allowing DAW users to automate Mechanic and, Komplete Kontrol users are able to load Mechanic mapped user files. In addition, REX2 files are also included with this sample pack.
Mechanic for Kontakt 6.2.2 or higher (full version) is on sale for £14.96 GBP for a limited time (regular £19.95 GBP). For a limited time, a free bonus Kontakt instrument is included with Mechanic which includes mapped Komplete Kontrol files.
More information: Sub51