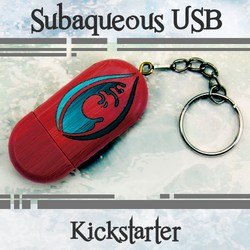 Subaqueous has announced a Kickstarter project for the USB Splash Drive, an 8GB custom USB drive that is loaded with music, remix stems, samples, Ableton live sets, and more.
The USB Splash Drive has a lot of music, unreleased tunes, and personal videos of me. This makes is an amazing insight and container of my music for any fan. For producers I have even more added bonuses on the USB Drive.
The Kickstarter project offers various rewards for pledging towards the goal of $2,222 USD, to be reached by Wednesday Jun 26, 12:19am EDT.
More information: Subaqueous USB Splash Drive and Remix Album